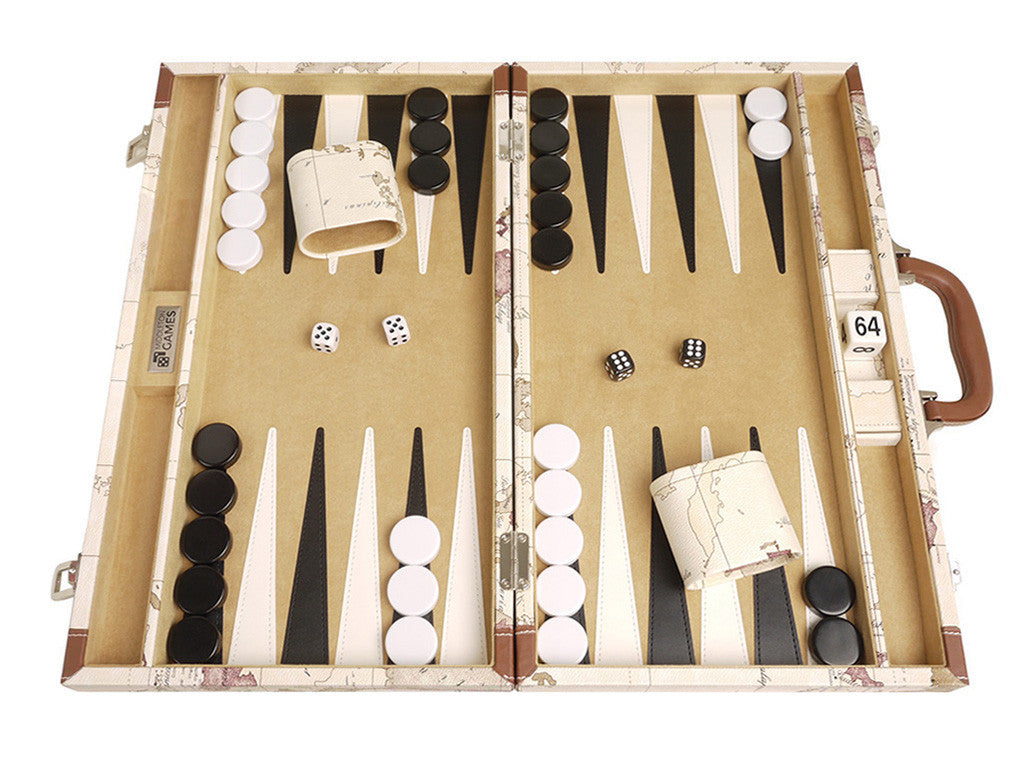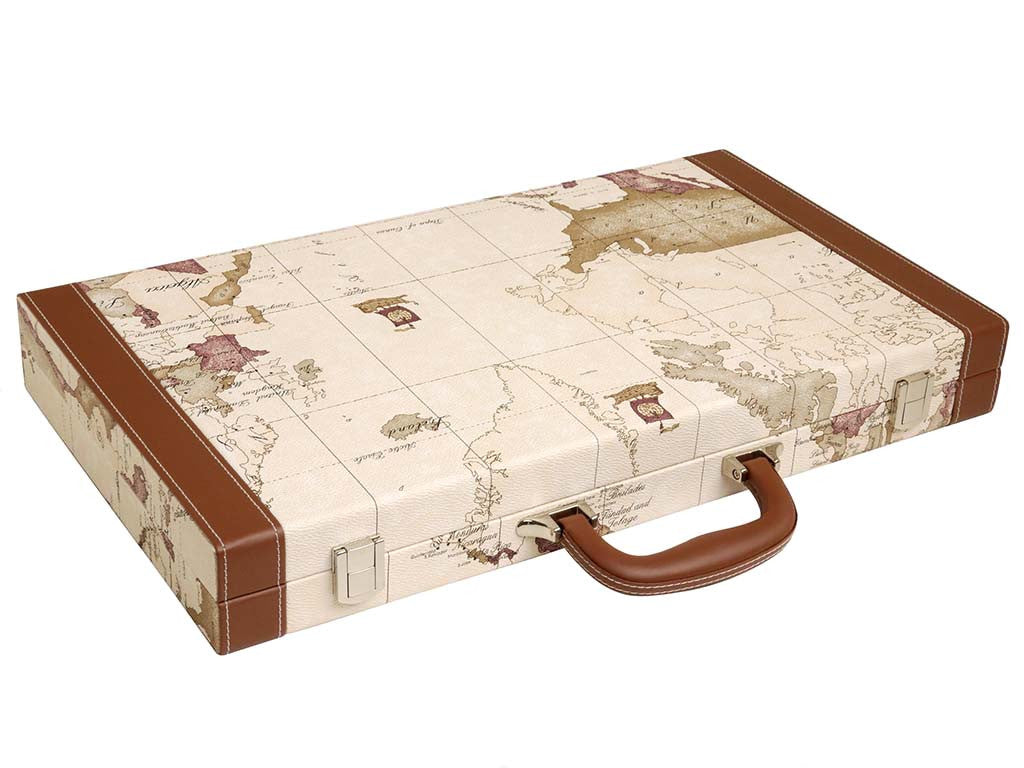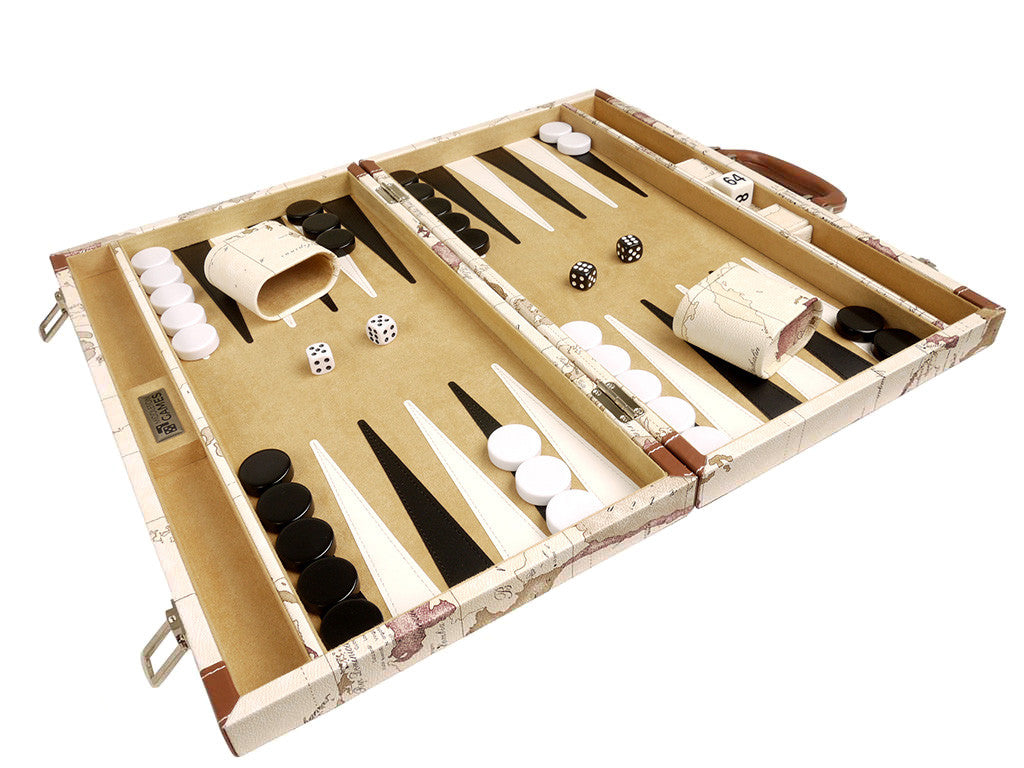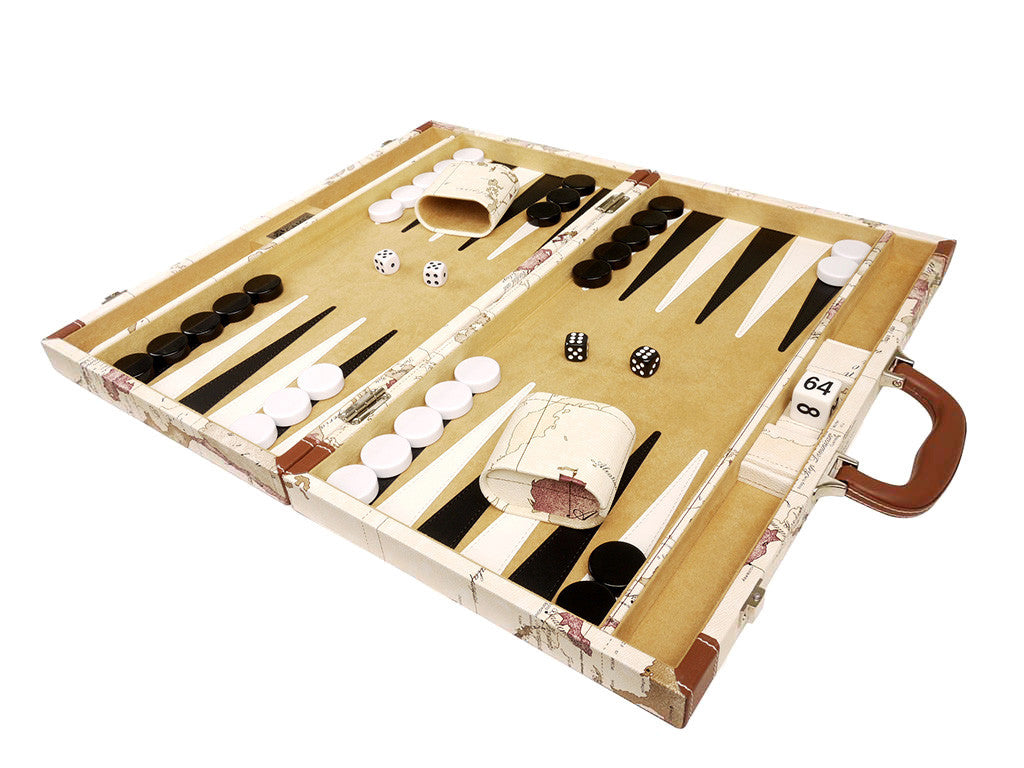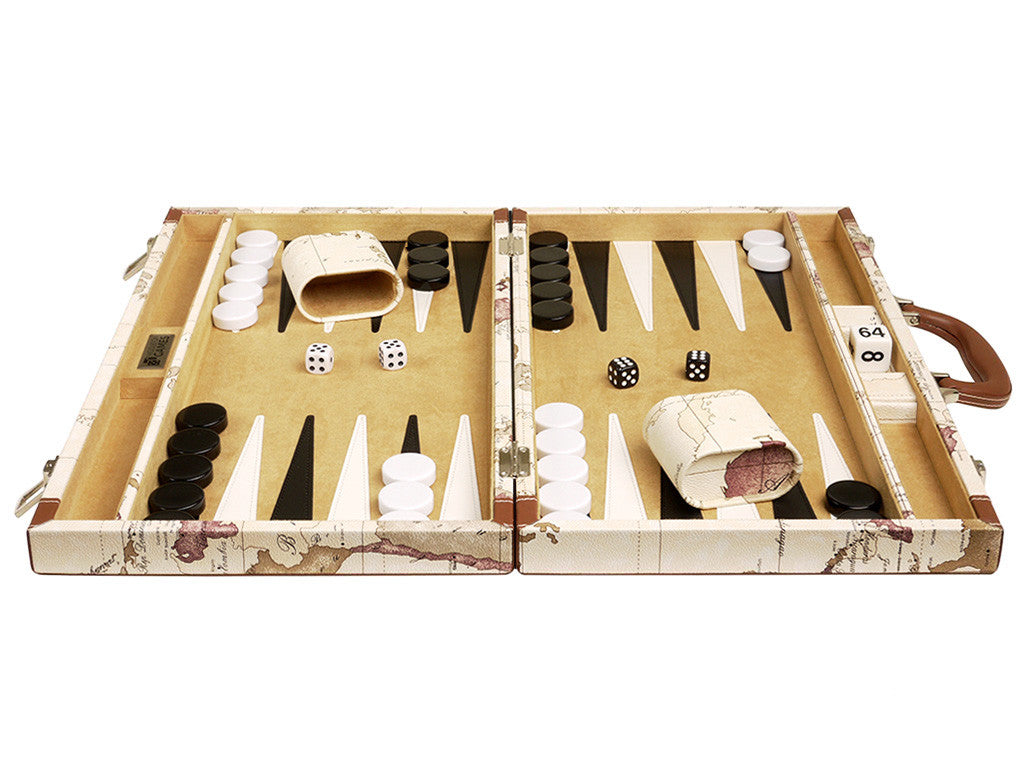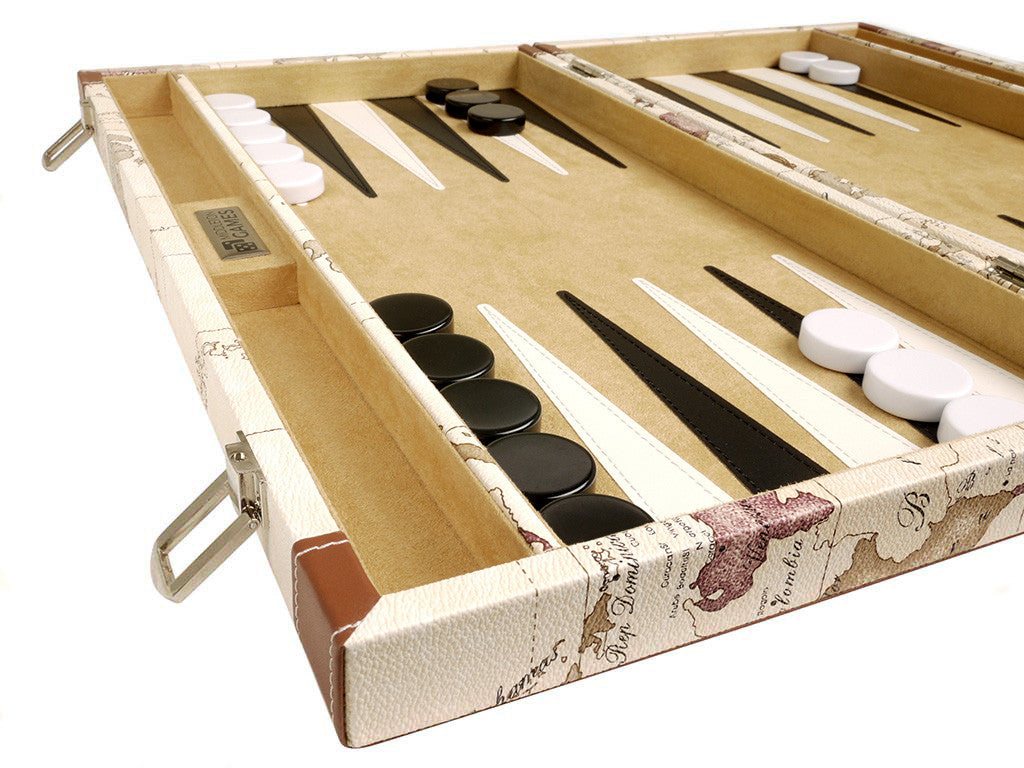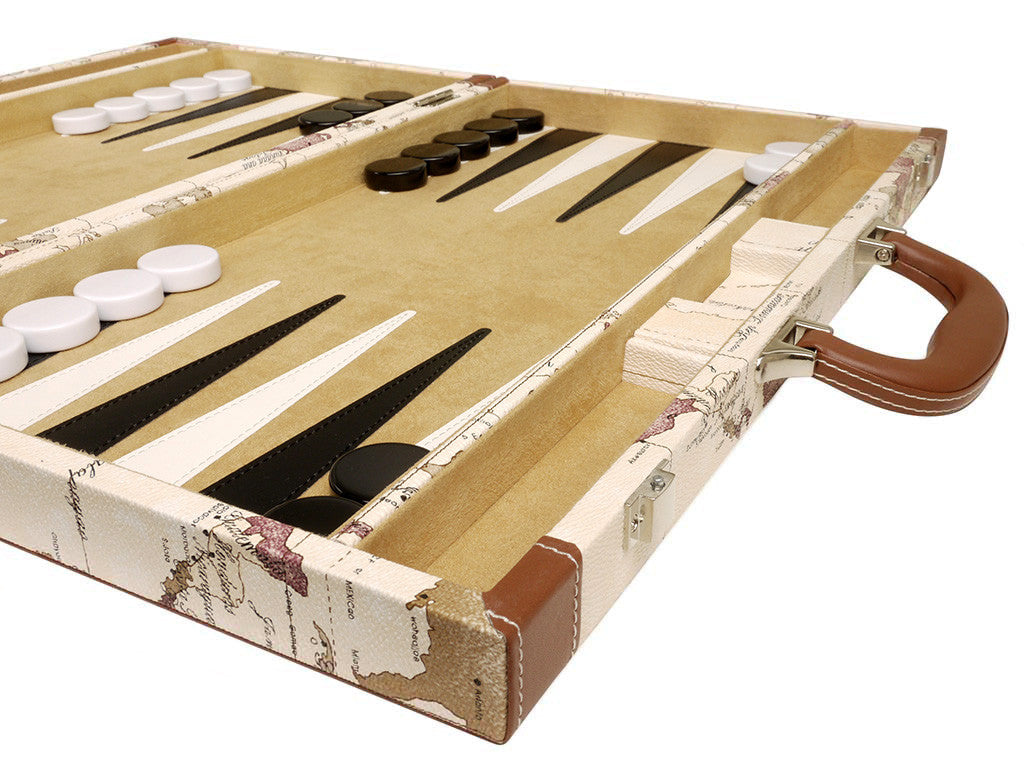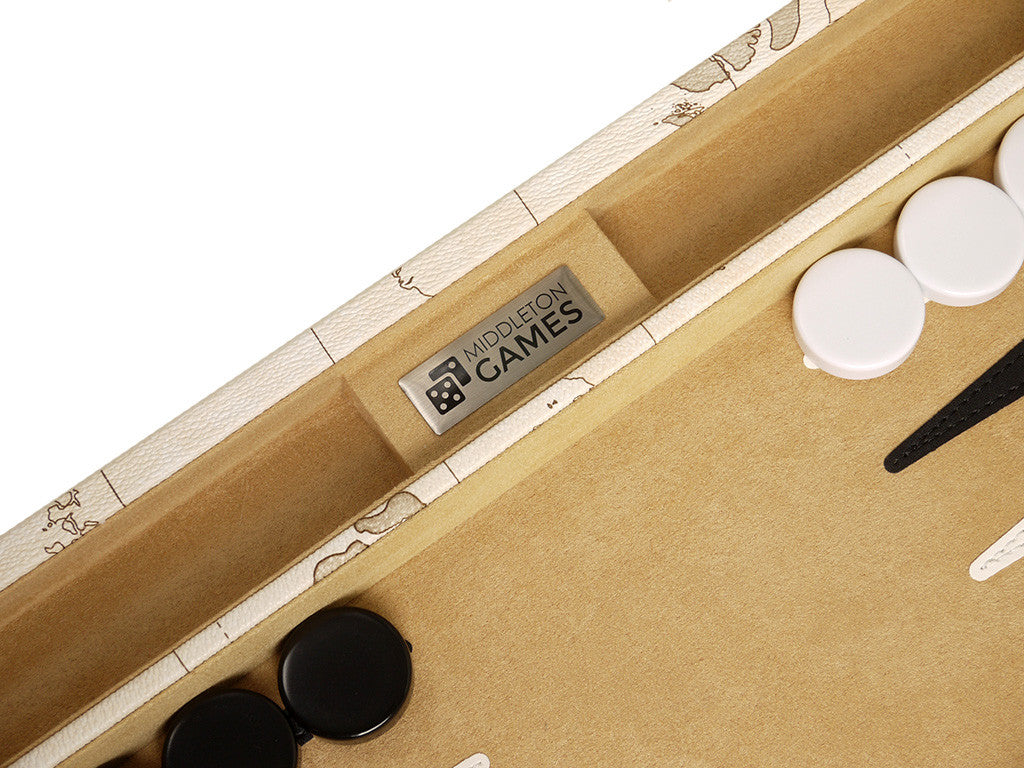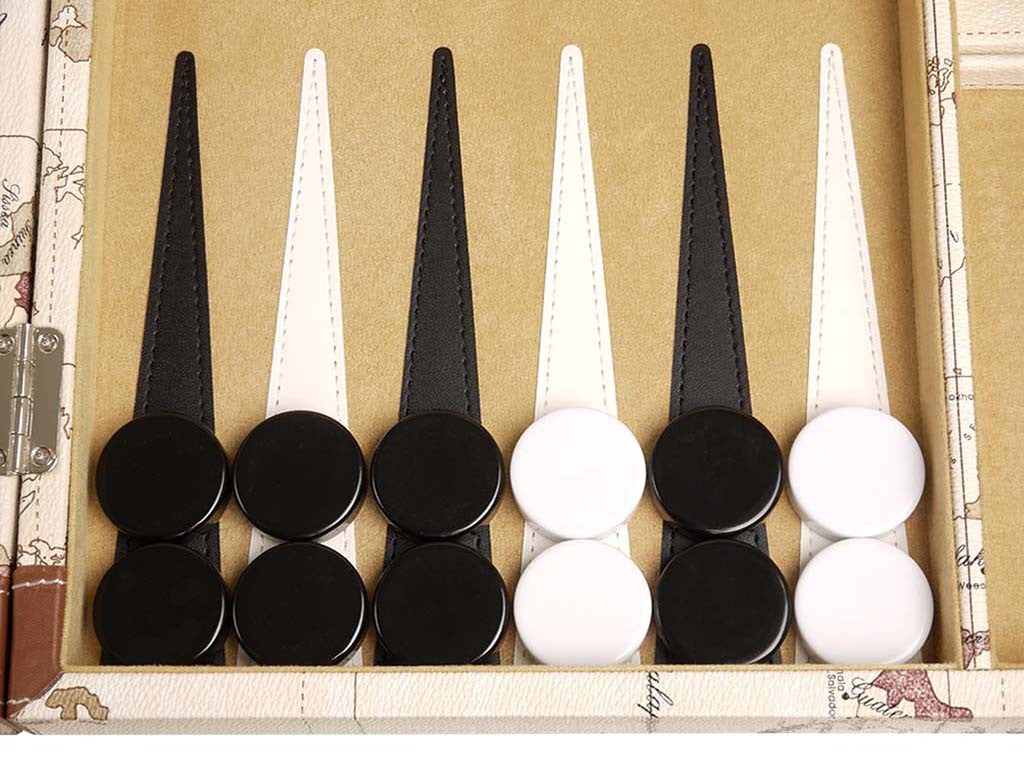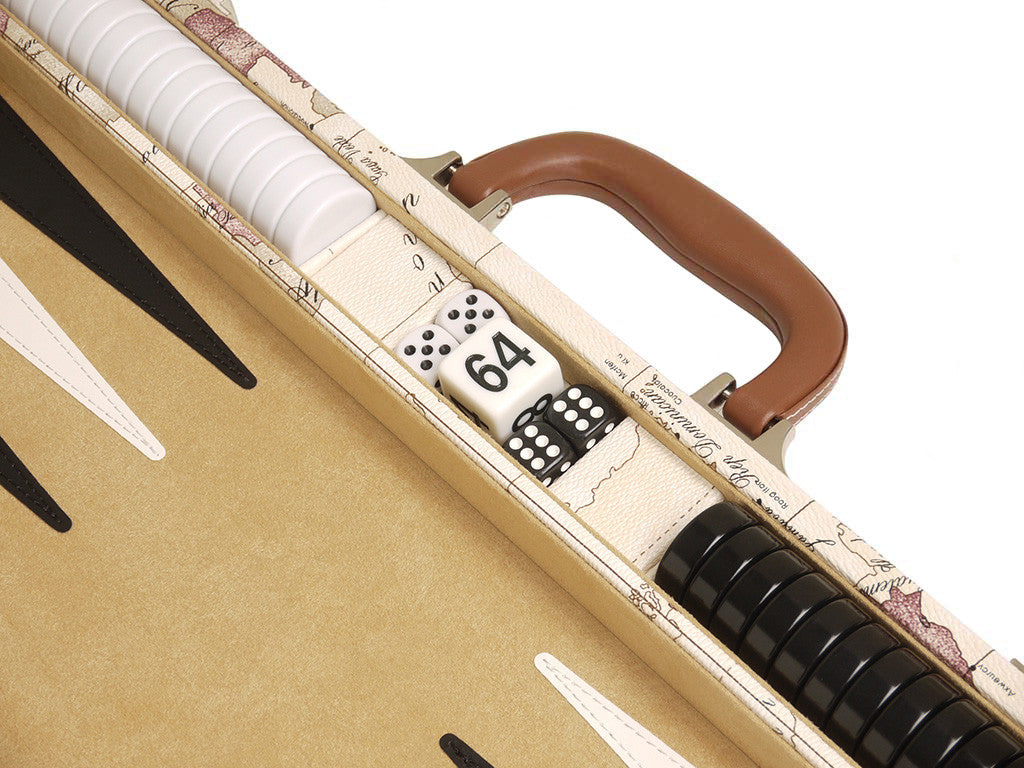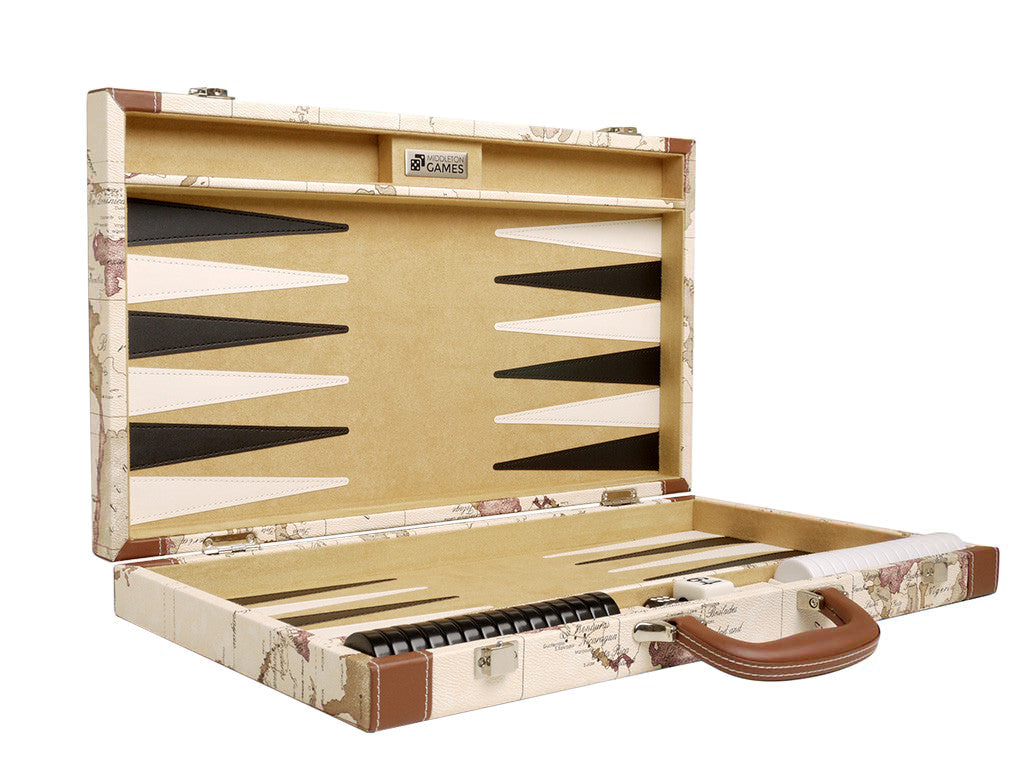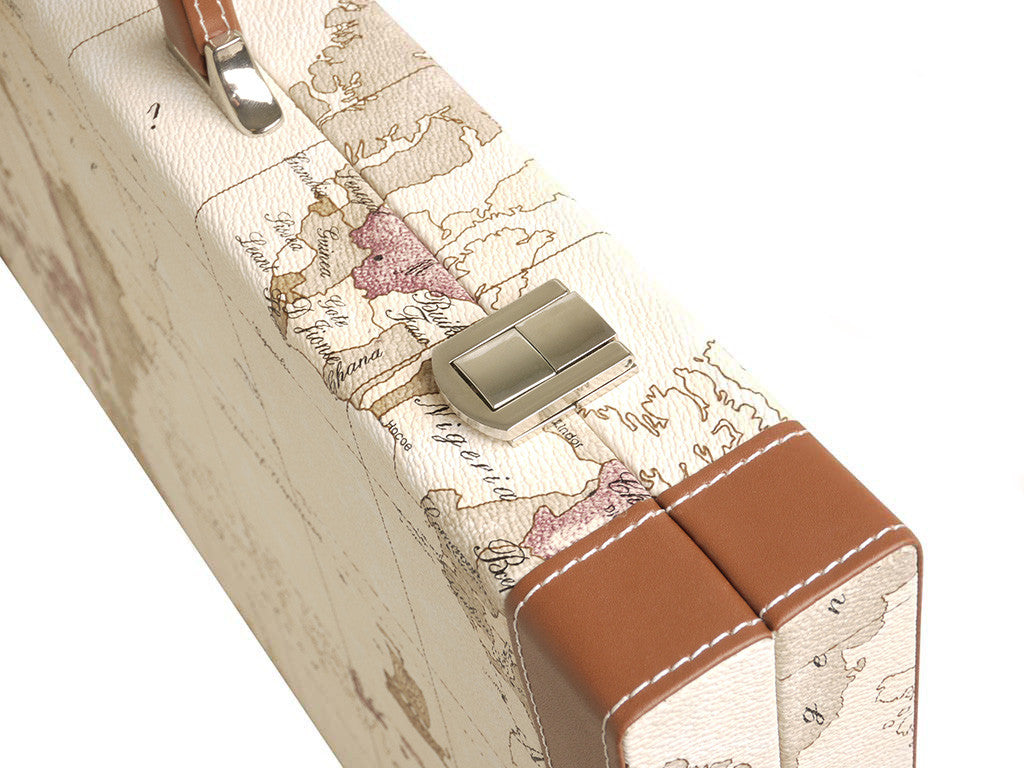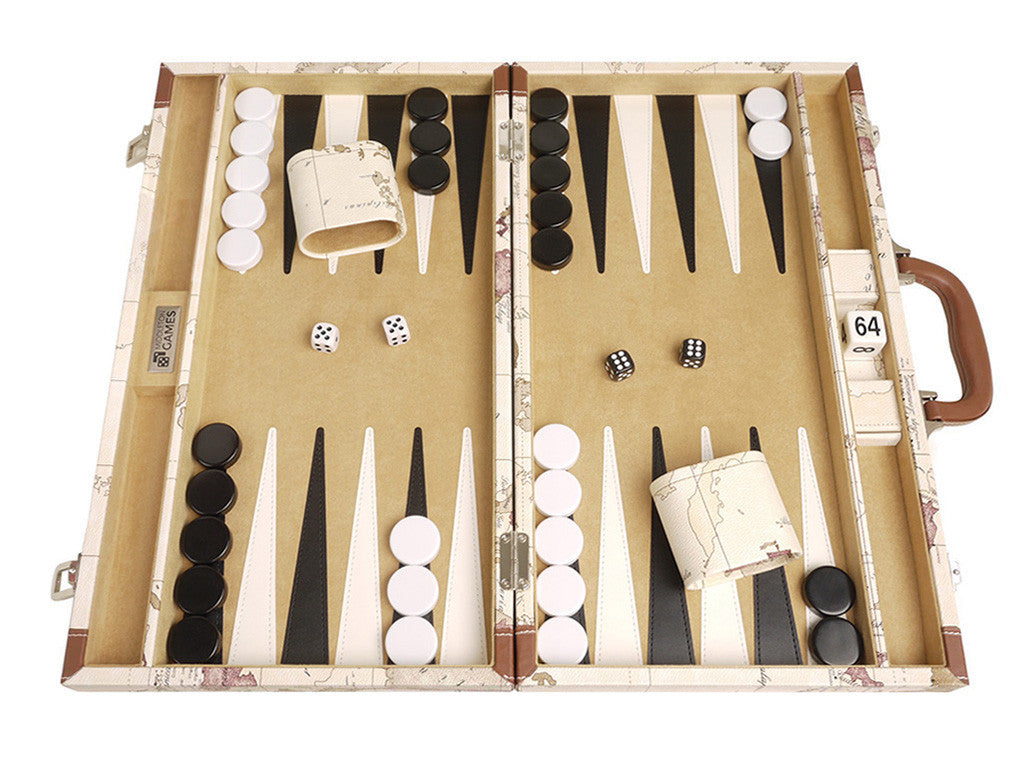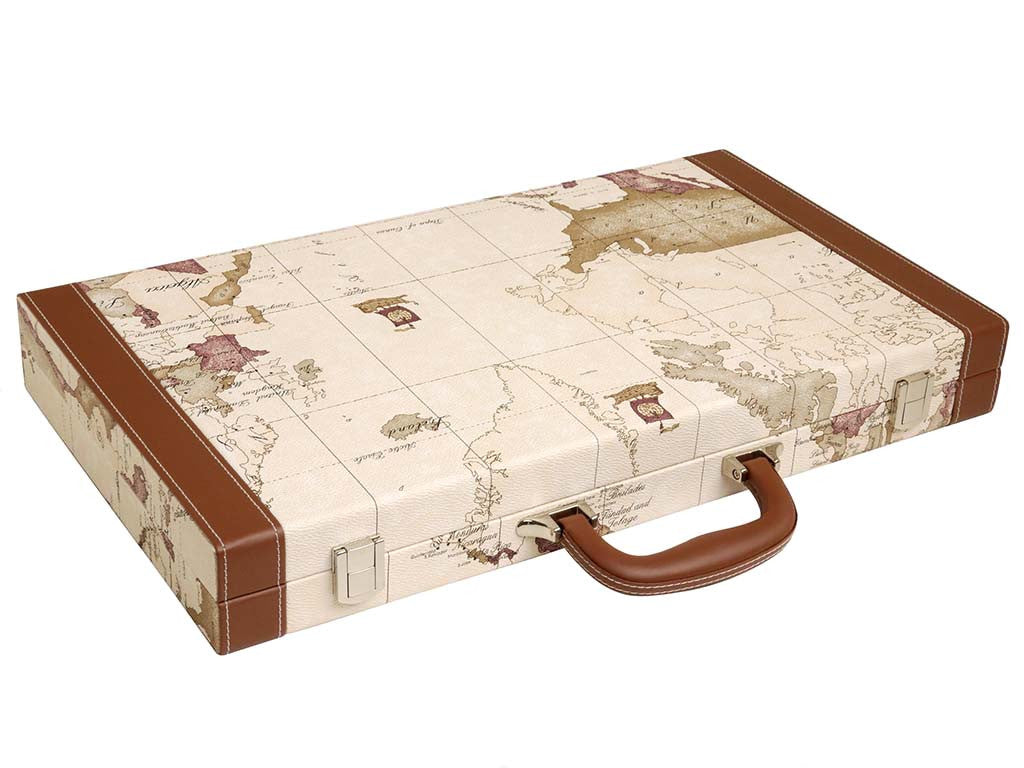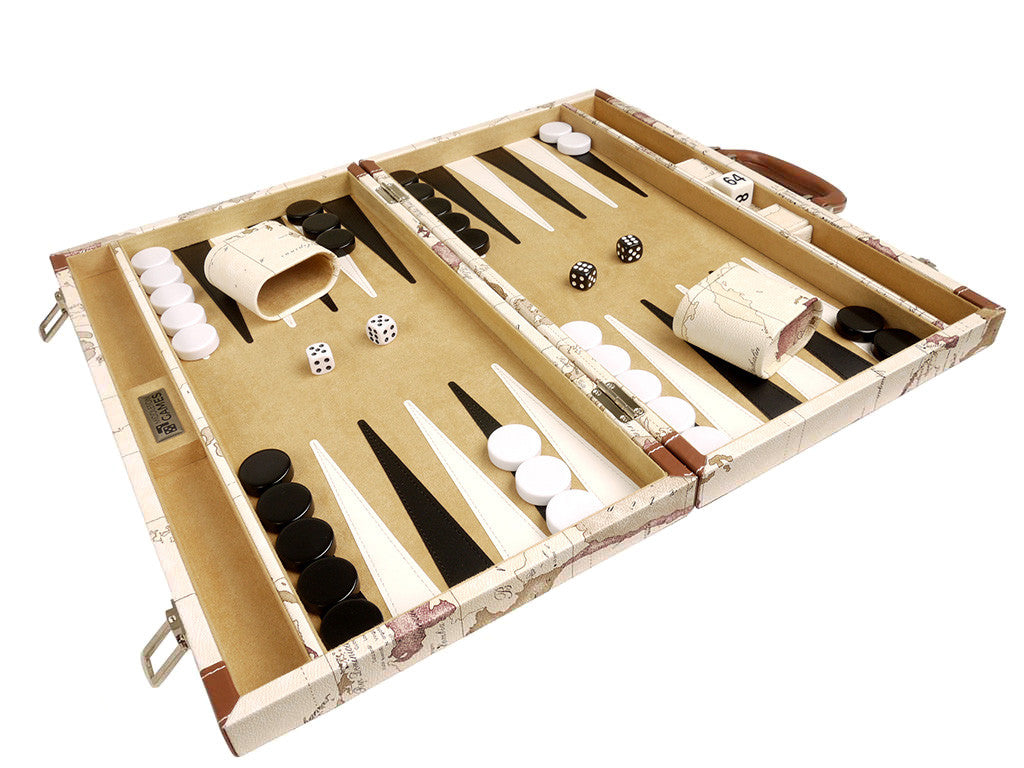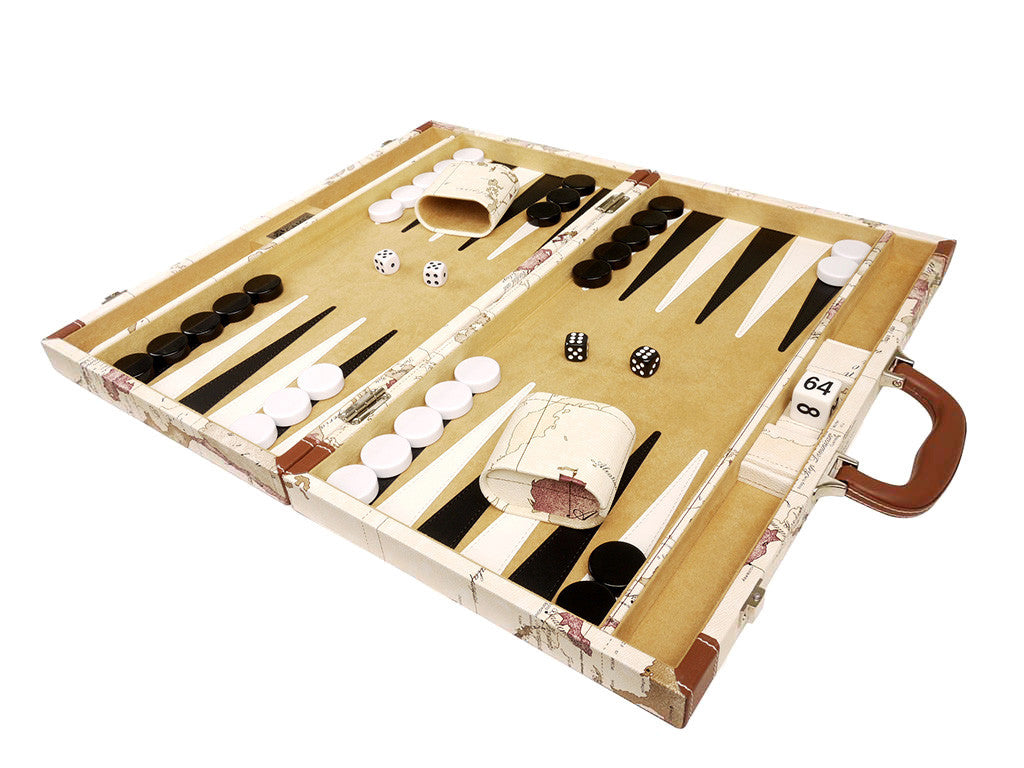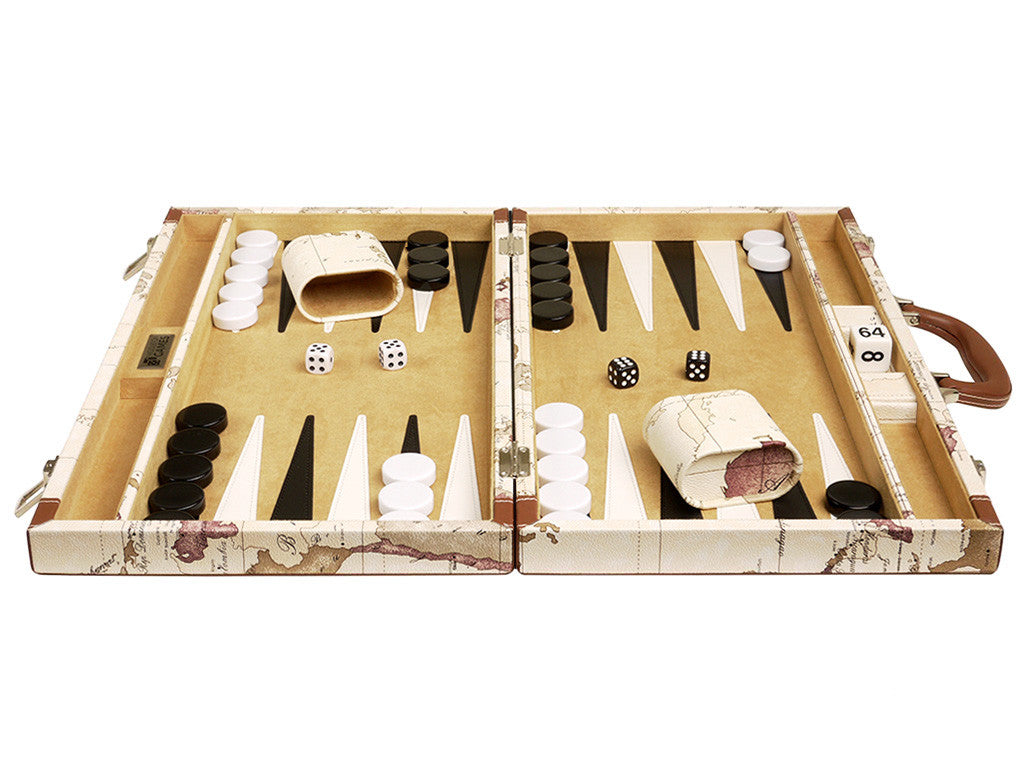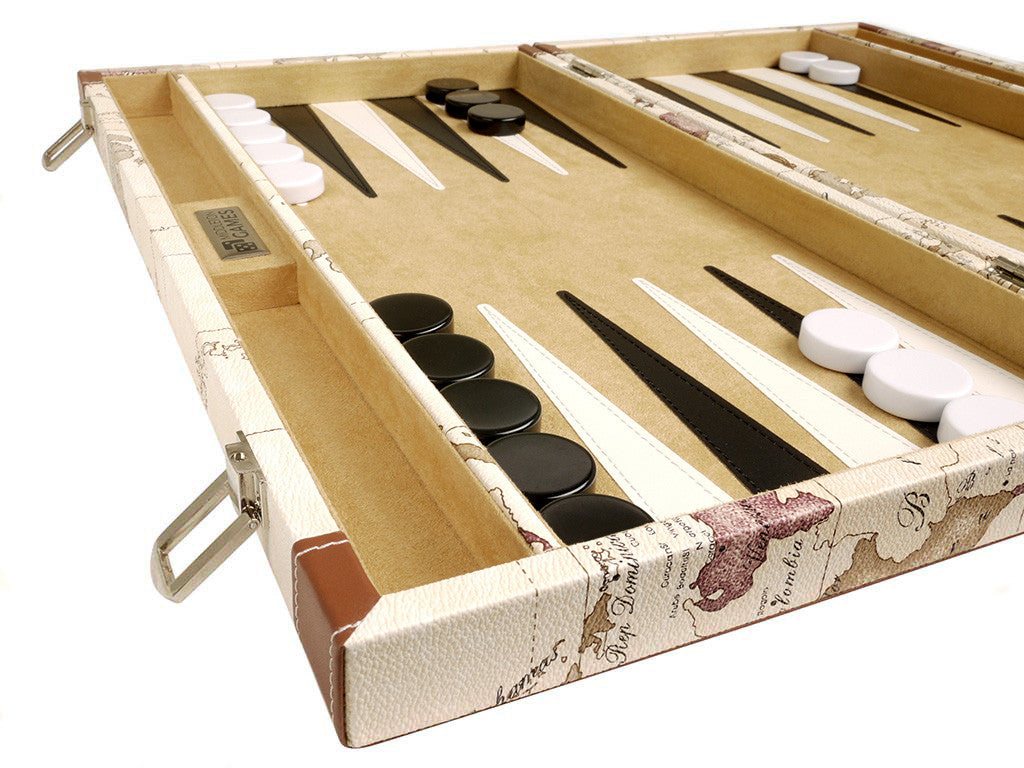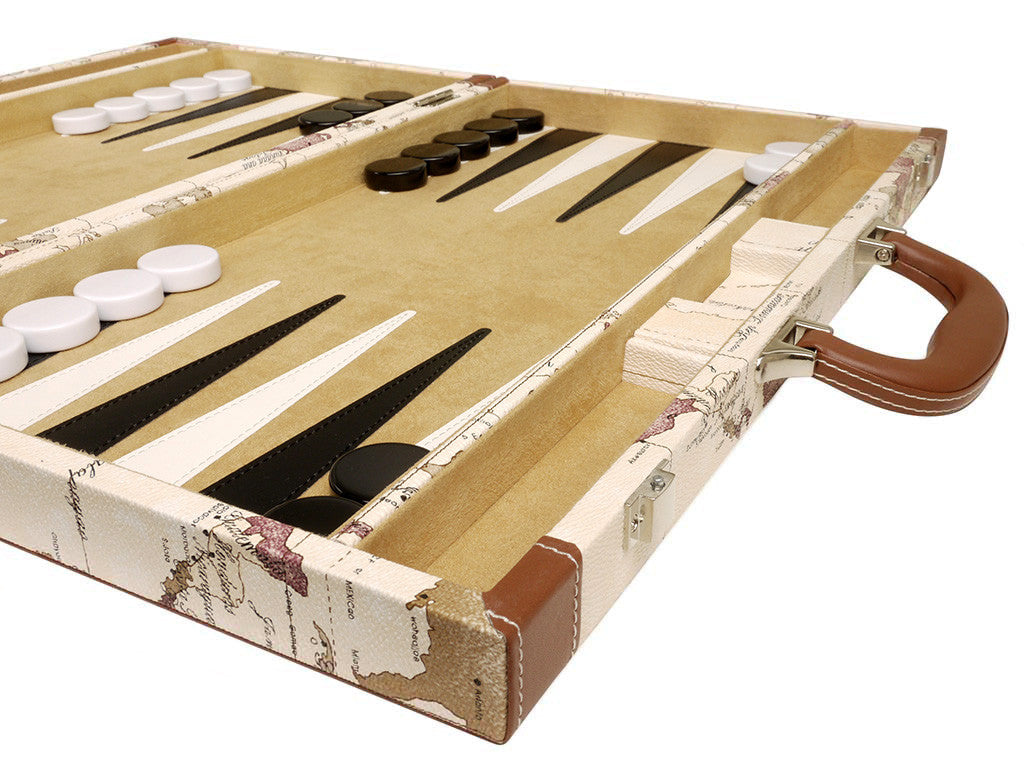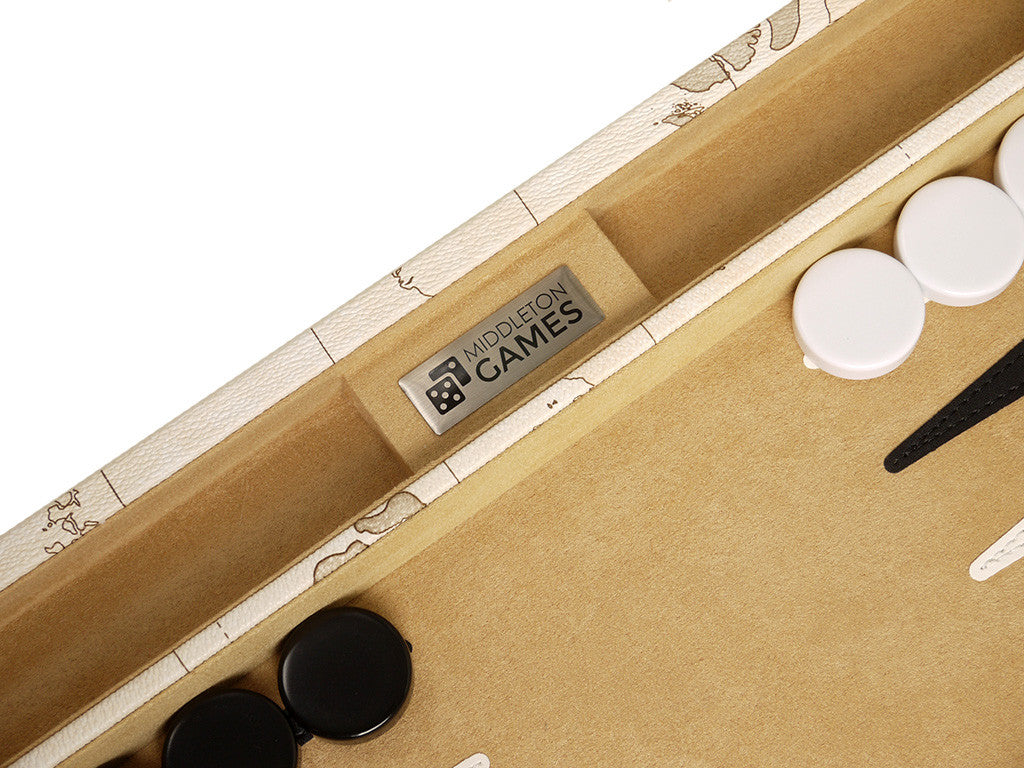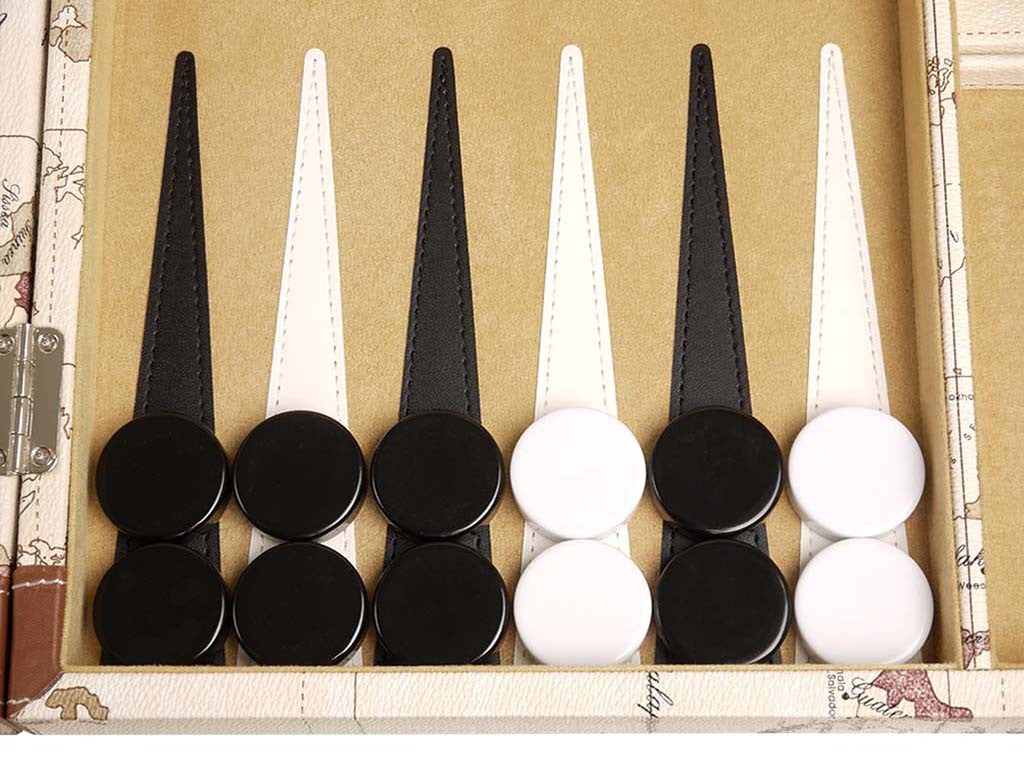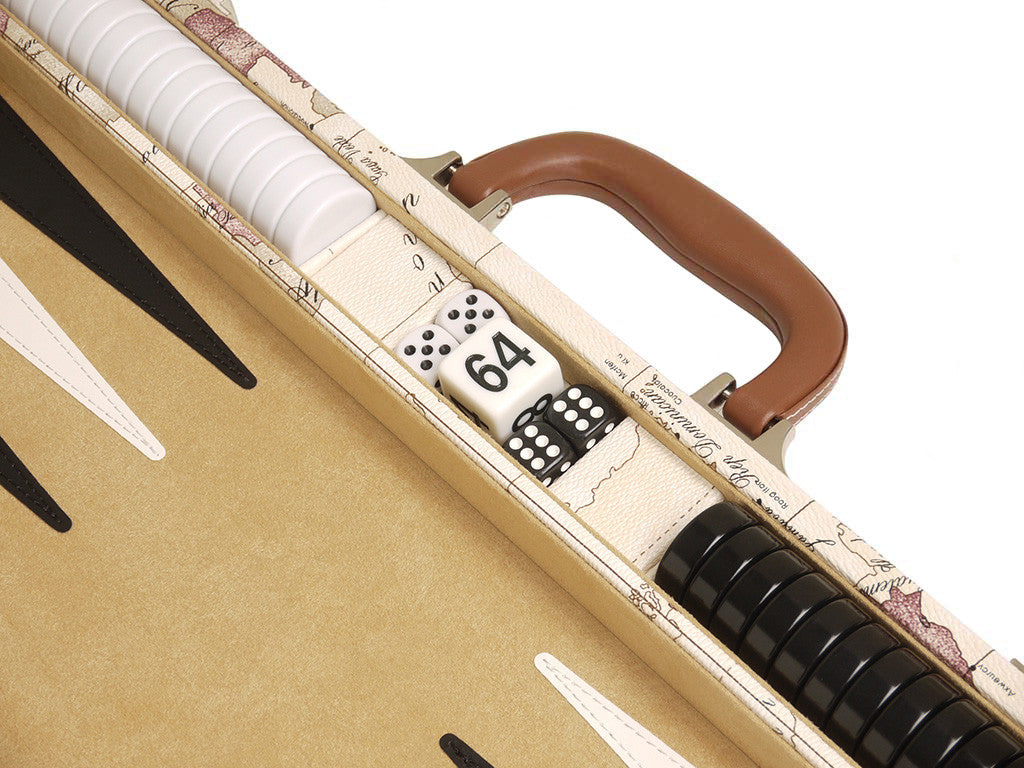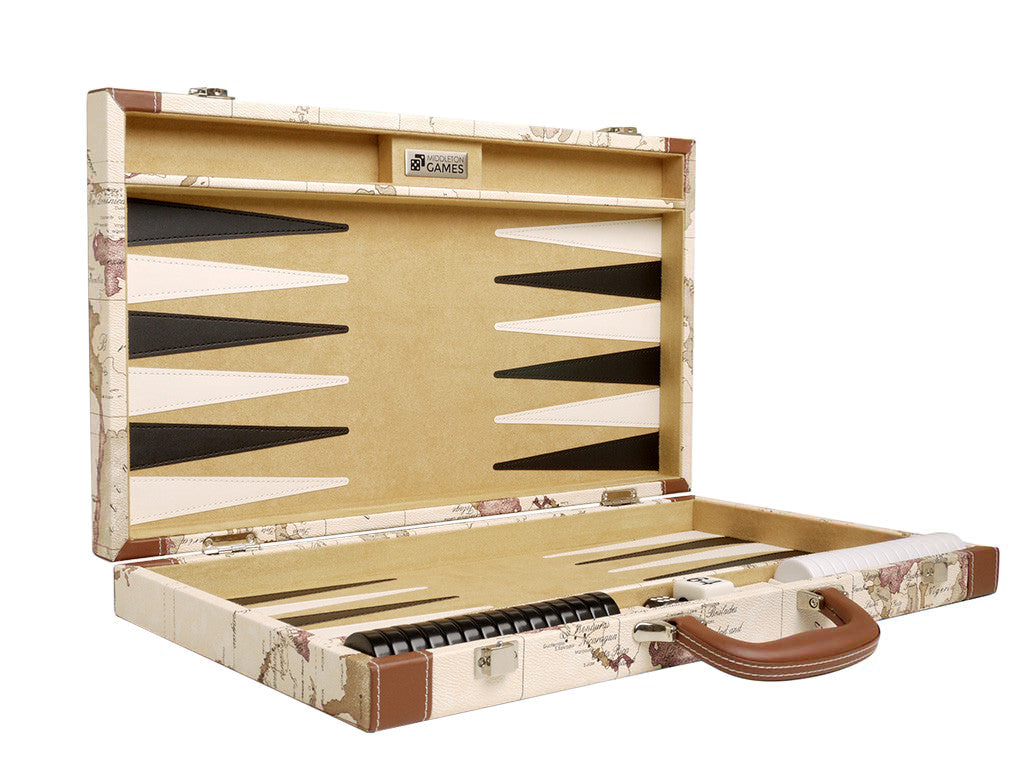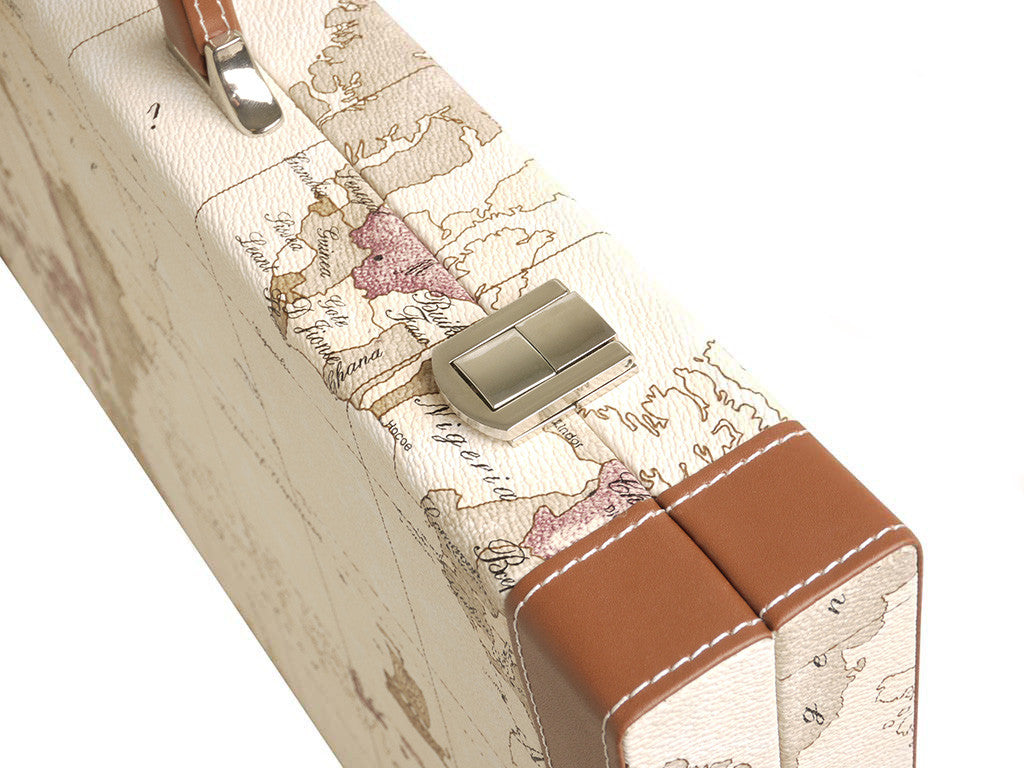 En oferta
Juego de backgammon de lujo con diseño de mapa (tablero blanco de 46 cm)
Diseño de mapa antiguo de alta elegancia y estilo. Superficie de juego de ante sintético extrasuave.
Medidas: 46 x 26,5 x 6,5 cm (cerrado); 46 x 53 x 3,25 cm (abierto).
Incluye piezas de alta calidad: fichas de 32 x 10 mm, dado multiplicador de 25 mm, dados de 16 mm y cubiletes a juego.
Diseño al estilo de un maletín. Fácil de transportar y guardar.
Juego divertido. Adecuado para uso en interiores o exteriores.
Busca algo exclusivo y fuera de lo común? Tómese un momento para ver este magnífico juego de backgammon de Middleton Games.
Gracias a nuestra larga trayectoria de fabricación de juegos de mesa de calidad, en este producto podrá apreciar los exquisitos materiales y la elaborada mano de obra empleada en su fabricación.
A diferencia de otros juegos de backgammon, nuestro producto destaca porque incluye un asa sólida y resistente como la de un maletín. La superficie de juego está hecha de un suave ante sintético de calidad excepcional que le hará disfrutarlo al tacto una y otra vez, además de que podrá deslizar las fichas de un lugar a otro con gran facilidad.
En lo que se refiere a las fichas de este juego de backgammon de sólida construcción, podrá notar su gran tamaño de 32 x 10 milímetros y apreciar lo bien que encajan en el tablero cuando acumula seis de ellas en dos casillas triangulares seguidas, sin casi ningún espacio de separación.
El tablero se puede abrir y cerrar con mucha rapidez e incluye portafichas laterales que garantizan un ajuste ceñido al guardar el juego. Los materiales y detalles de este juego de backgammon son de una alta calidad y estilo.
Conjunto de Backgammon Dimensiones:
Largo cerrado:18 1/4" ; Anchura: 10 1/2" ; Altura: 2 1/2"
Longitud abierta: 18 1/4" Anchura: 21" Altura: 1 1/4"
Materiales del juego del chaquete:
Material de la Caja: Cuero
Color del caso: Diseño de mapas - blanco
Material de Campo: Alto Faux Suede
Color del campo: Color canela
Puntos 1 Color: Blanco
Puntos 2 Color: Negro
Estilo de cierre: Pestillo Niquelado
Dimensiones de la piedra del chaquete:
Diámetro: 1 1/4" (32 mm)
Grueso: 3/8" (10 mm)
Material: Piedra uria
Piedras 1 Color: Negro
Piedras 2 Color: Blanco
Dimensiones de dados / cubo de backgammon:
Tamaño de dados: 5/8"
Cubo: 1"
Conjunto de dados 1 color: Negro
Conjunto de dados 2 color: Blanco
Color del cubo: Blanco
Dimensiones de la chaqueta del chaquete:
Altura de la copa: 3" Anchura: 1 1/2"; Longitud: 2 3/4"
Exterior de la Copa: Cuero
Interior de la copa: Alto Faux Suede
Copa 1 Exterior: Diseño de mapas - blanco
Copa 1 Interior: Alto Faux Suede
Copa 2 Exterior: Diseño de mapas - blanco
Copa 2 Interior: Alto Faux Suede
About Middleton Games
Middleton Games' Backgammon Sets Featuring Map Designs
Explore Middleton Games' exclusive collection of Map Backgammon Sets, available at American-Wholesaler. Renowned for their budget-friendly yet stylish and high-quality gaming sets, Middleton Games offers a captivating selection that blends quality with affordability. Whether you're a novice or seeking a memorable gift, these Map Backgammon Sets are designed to charm and captivate.
The antique map design on these sets transports you to an old-world era, adding an extra layer of intrigue to your gaming experience. The classic brown and white colors enhance the vintage aesthetic, evoking timeless sophistication.
Available in 15-inch and 18-inch sizes, catering to various preferences, these fully equipped sets ensure immersive gaming. The folding attaché style ensures easy carrying and storage, allowing you to indulge in backgammon wherever you wish.
These sets are meticulously crafted using premium leatherette material, providing a truly luxurious texture. The addition of nickel-plated latches adds a layer of durability and security during transport. Notably, the rugged luggage-style handle stands out as a feature that enhances both aesthetics and durability, ensuring convenient transportation. Furthermore, the plush faux-suede playing surface guarantees a seamless experience, allowing checkers to effortlessly glide with each move.
Crafted from Uria Stone material, the checkers boast exceptional durability, ensuring they remain free from breaks, scratches, or cracks. Checker size corresponds to the dimensions of the board: larger boards feature larger checkers. The 15-inch board includes 1" (27 mm) checkers, while the 18-inch board comes with 1 1/4" (32 mm) checkers.
Testimonials from customers, including the positive review by Hilde Muller, serve as evidence of their contentment with the product. Hilde Muller's review states, "Our entire family has taken pleasure in this exquisitely crafted board. Its durability and ideal size are impressive, and the map design on the case adds to its charm."
Available exclusively at American-Wholesaler, Middleton Games' Map Backgammon Sets embody historical elegance and expert craftsmanship. The blend of durability, size, and captivating design makes these sets valuable additions to any entertainment collection. Immerse yourself in enhanced gameplay with the old-world map design. Plus, enjoy the convenience of FREE shipping in Europe for these remarkable sets.