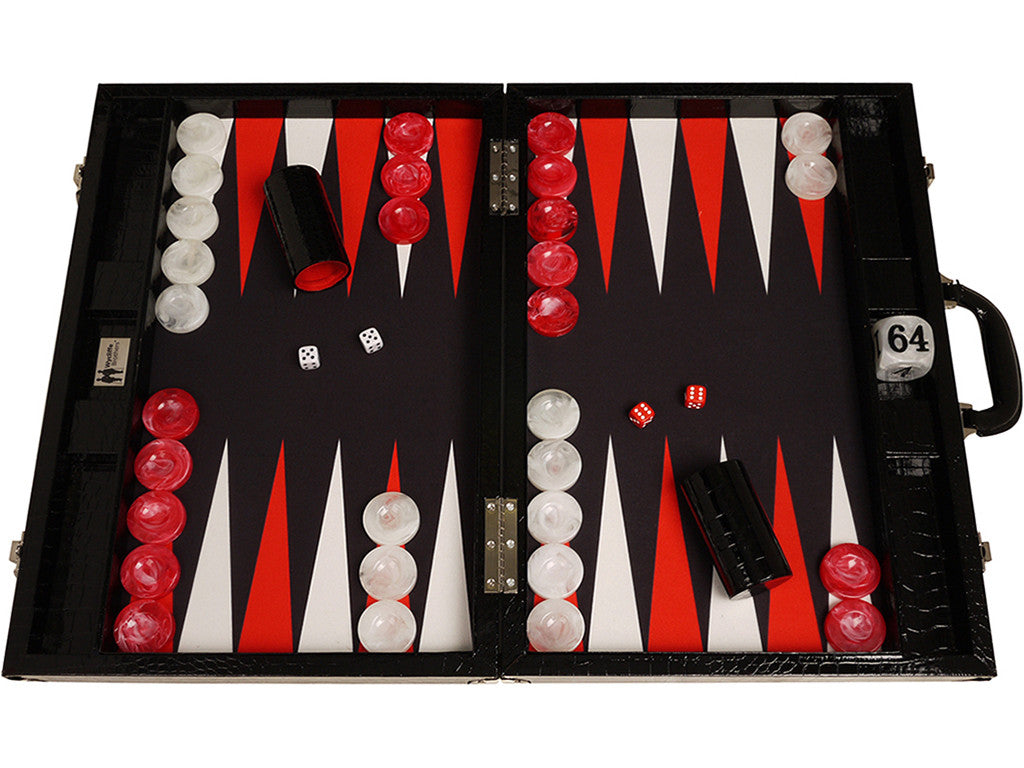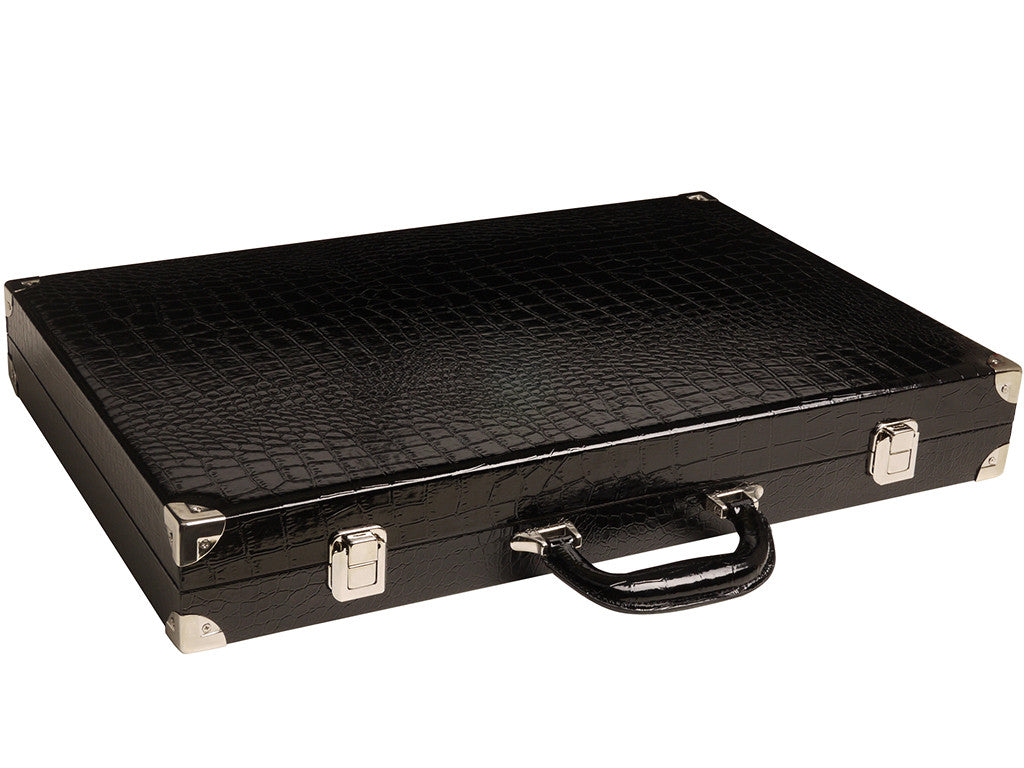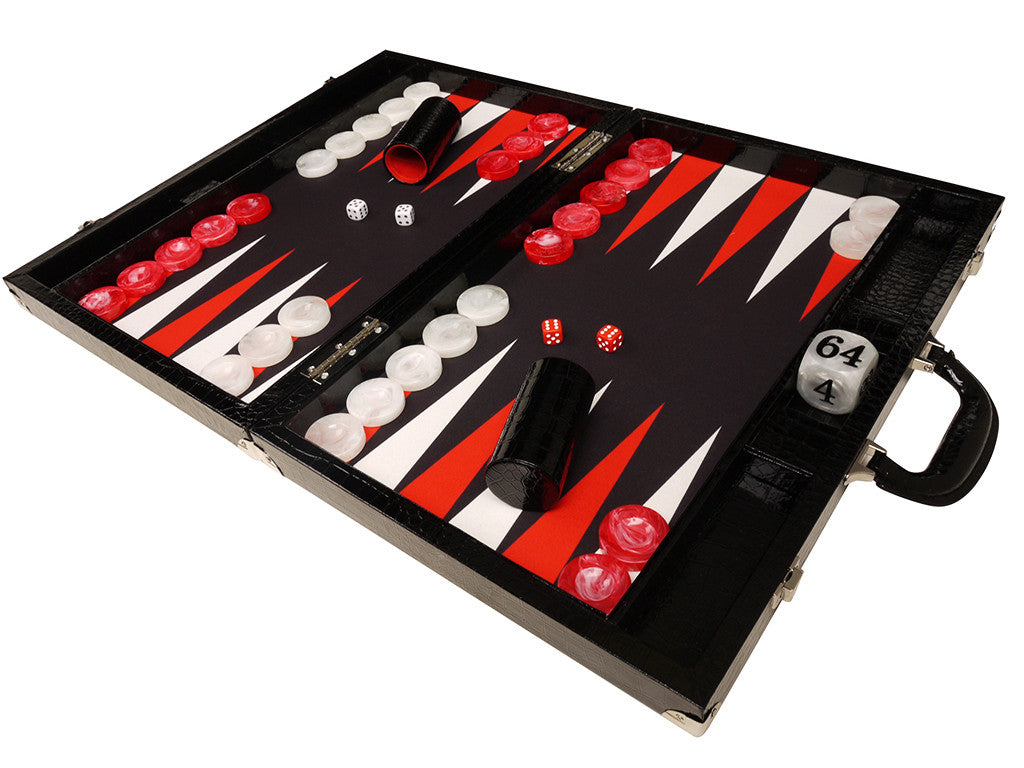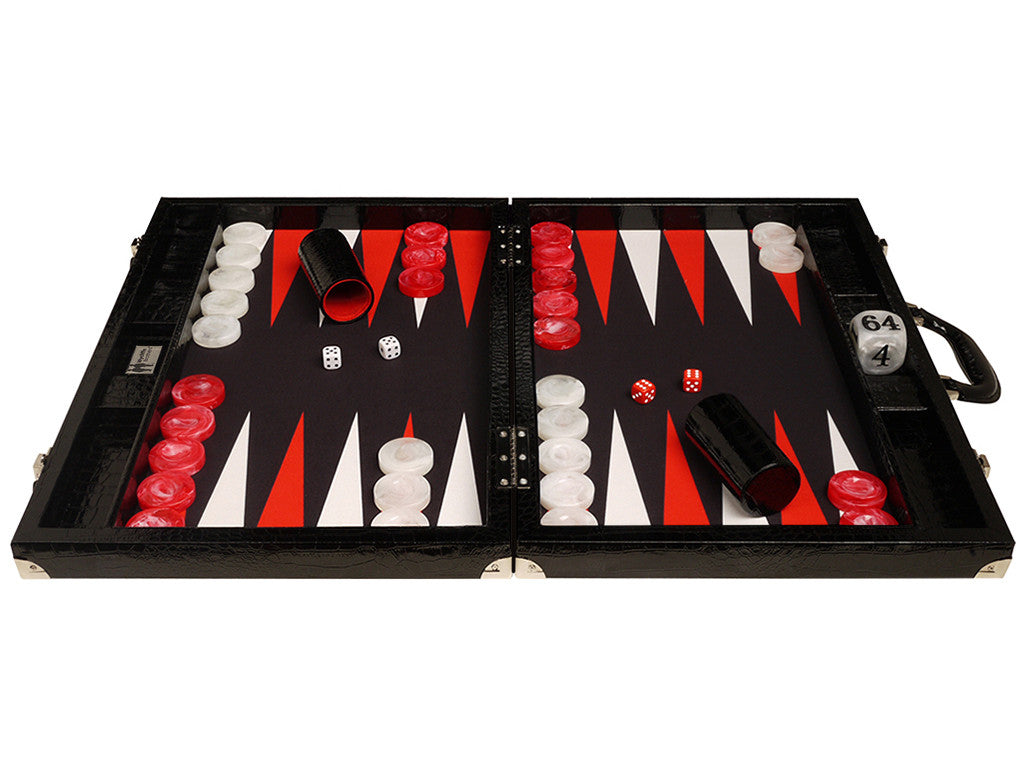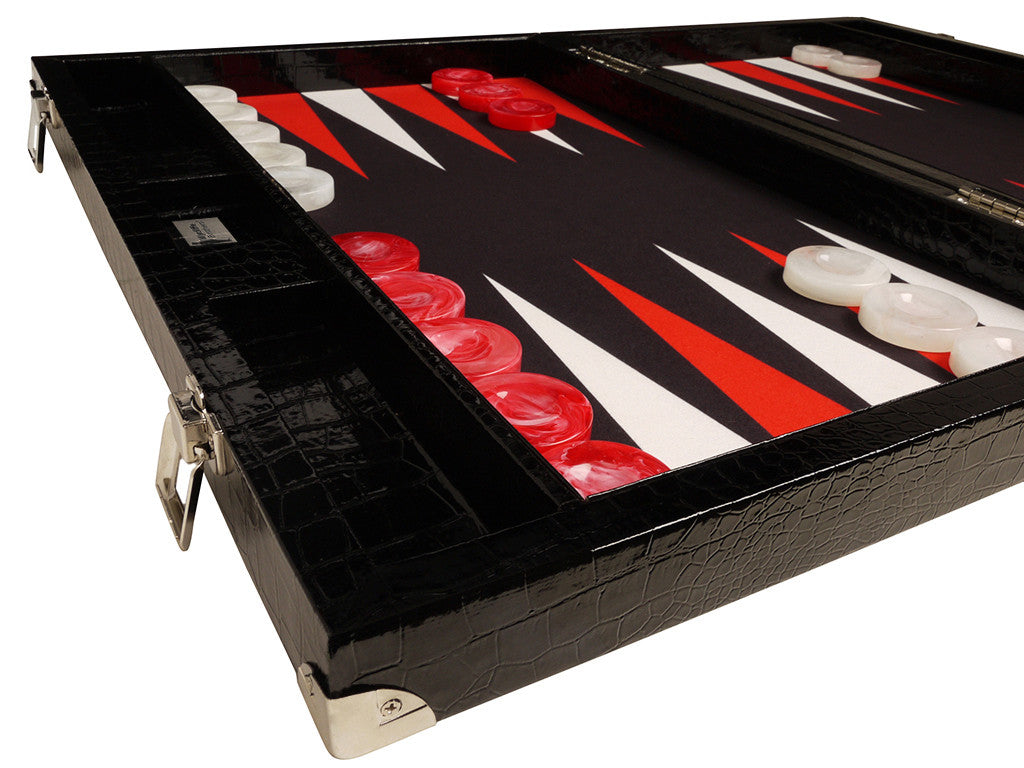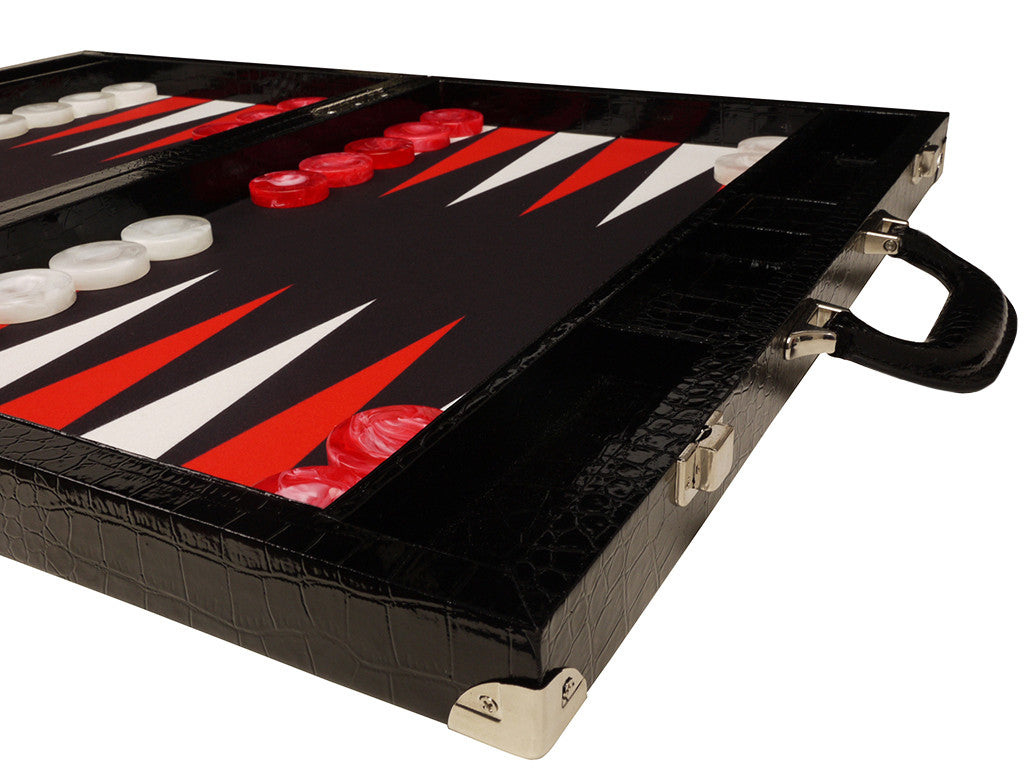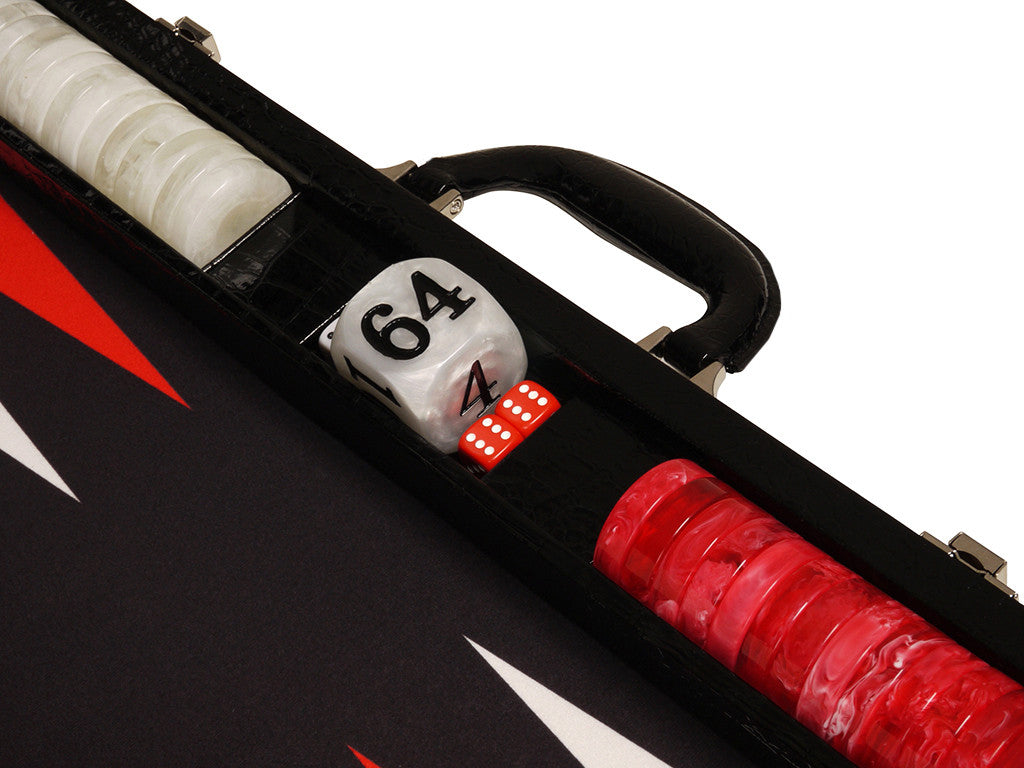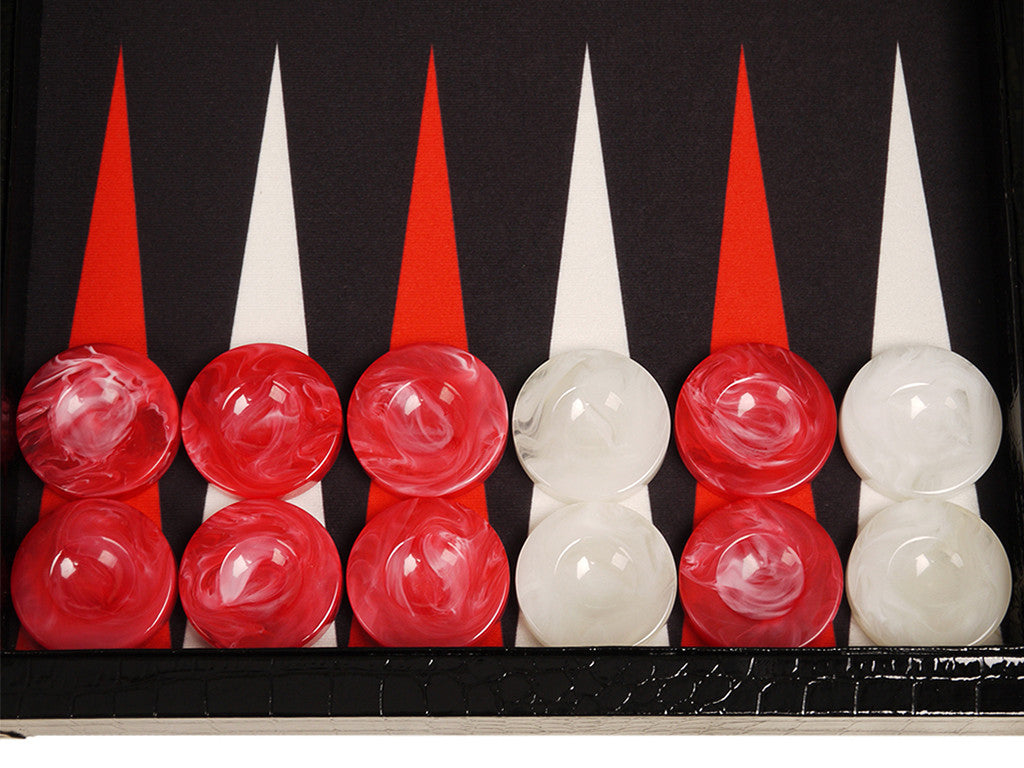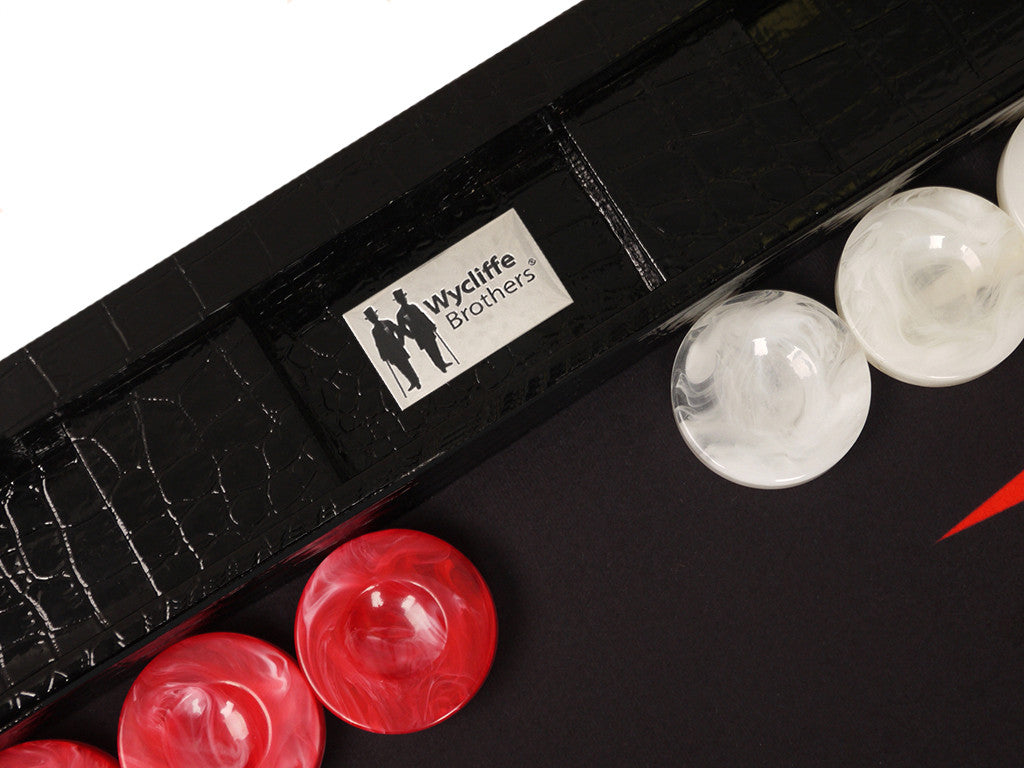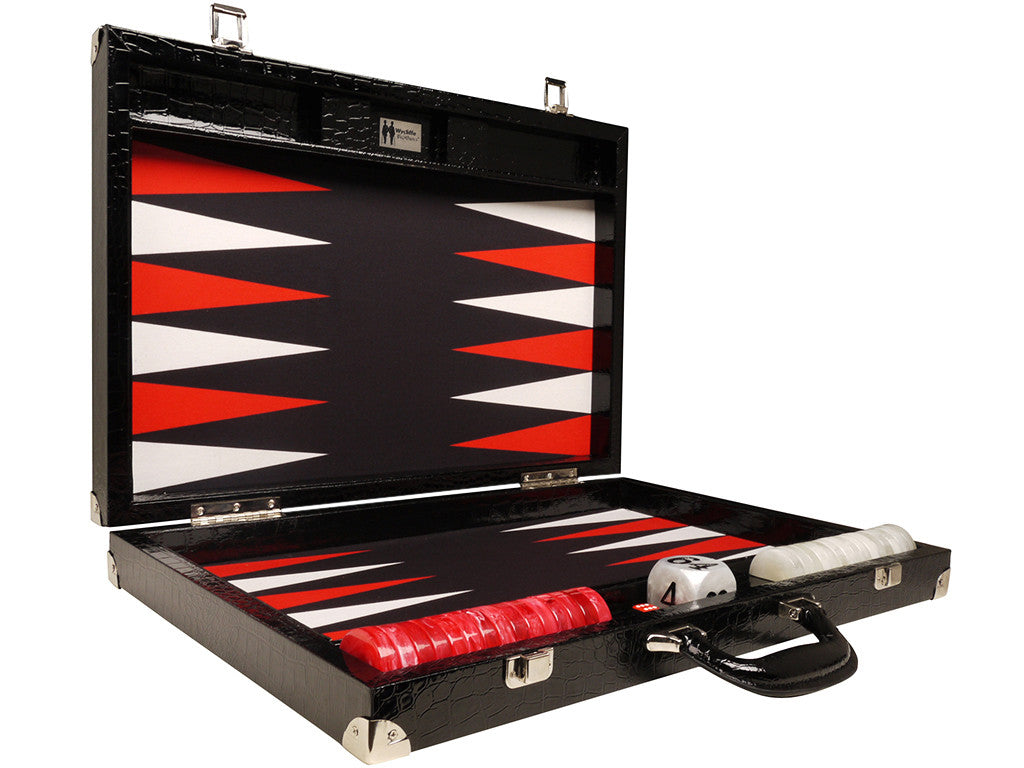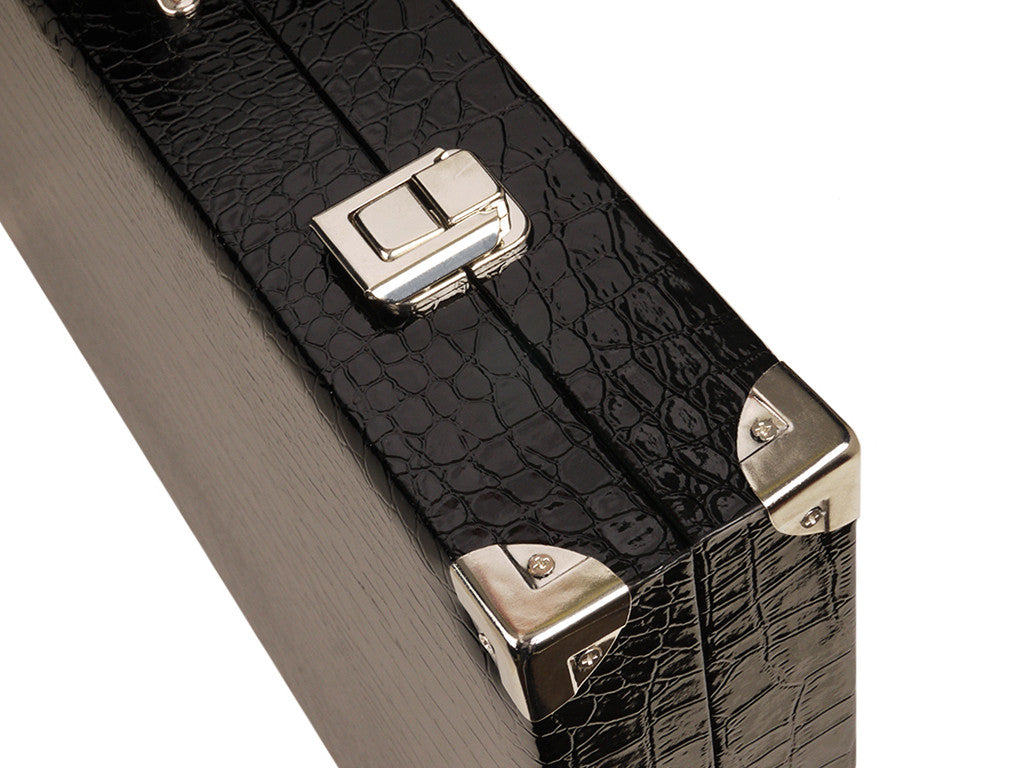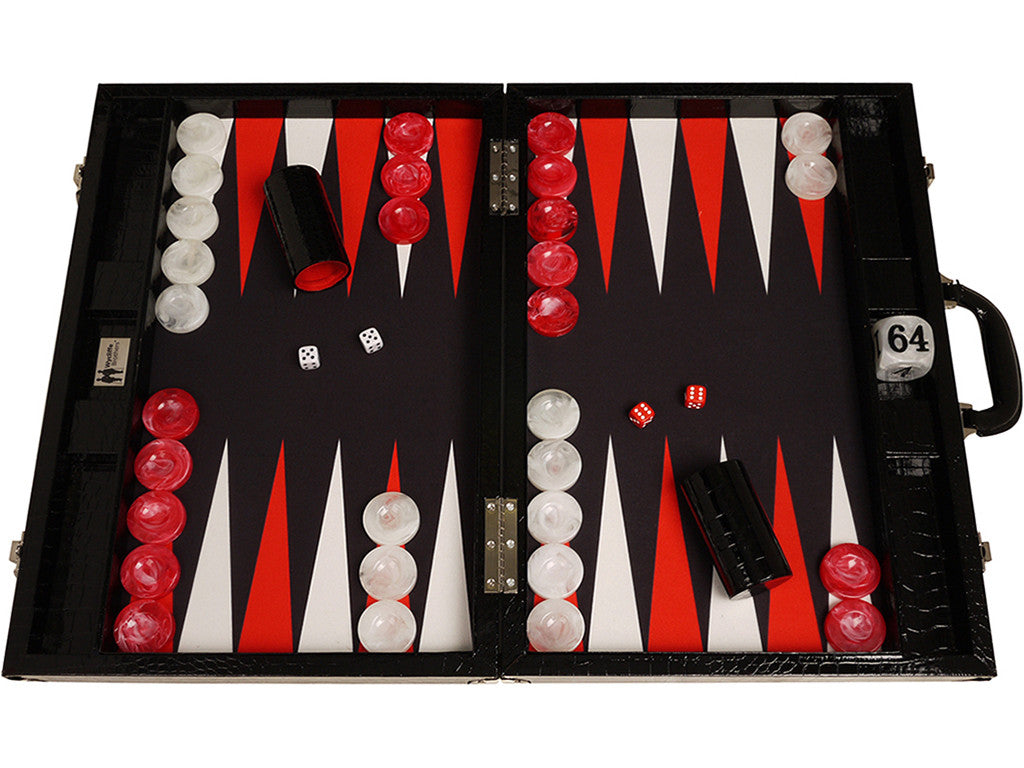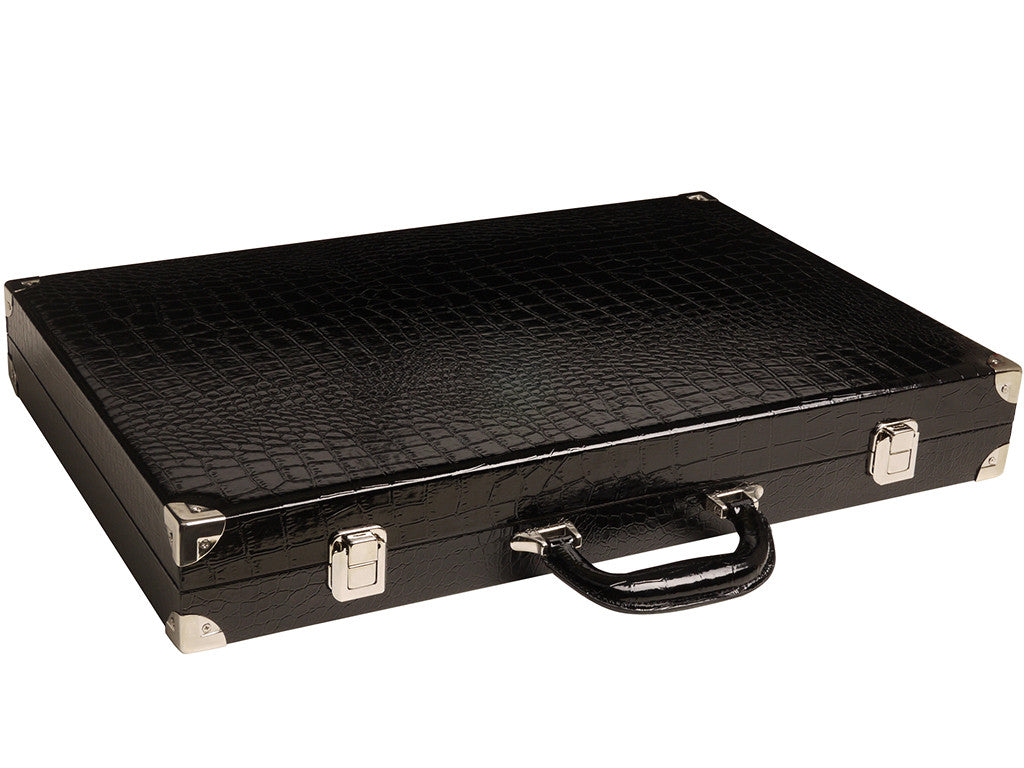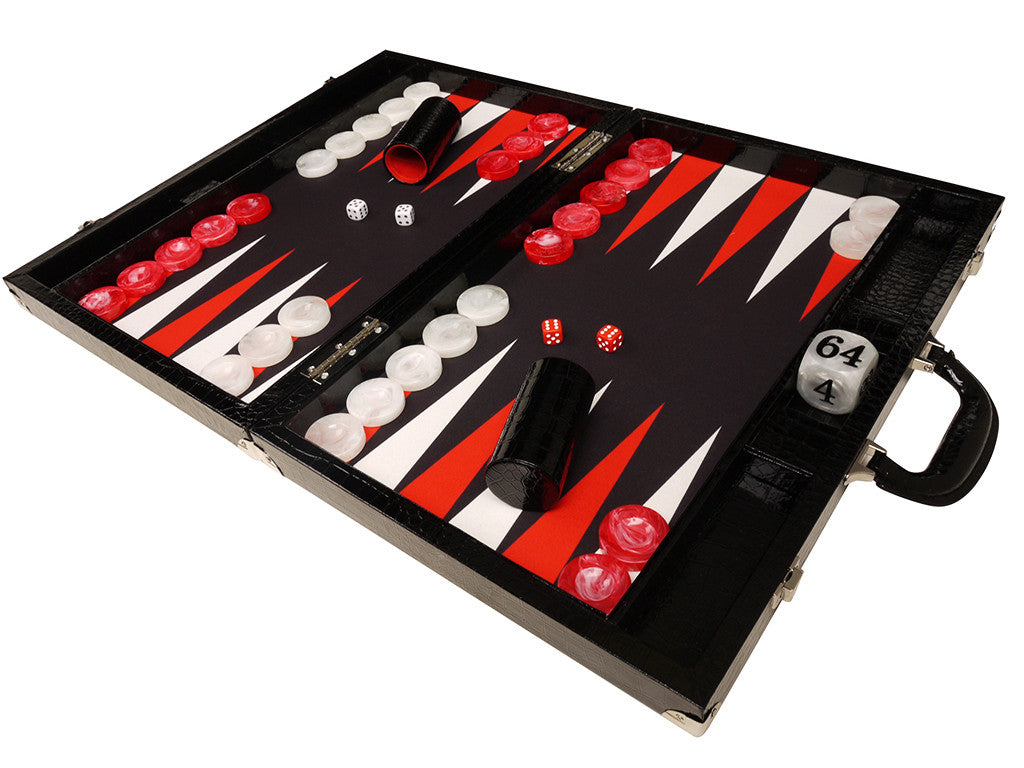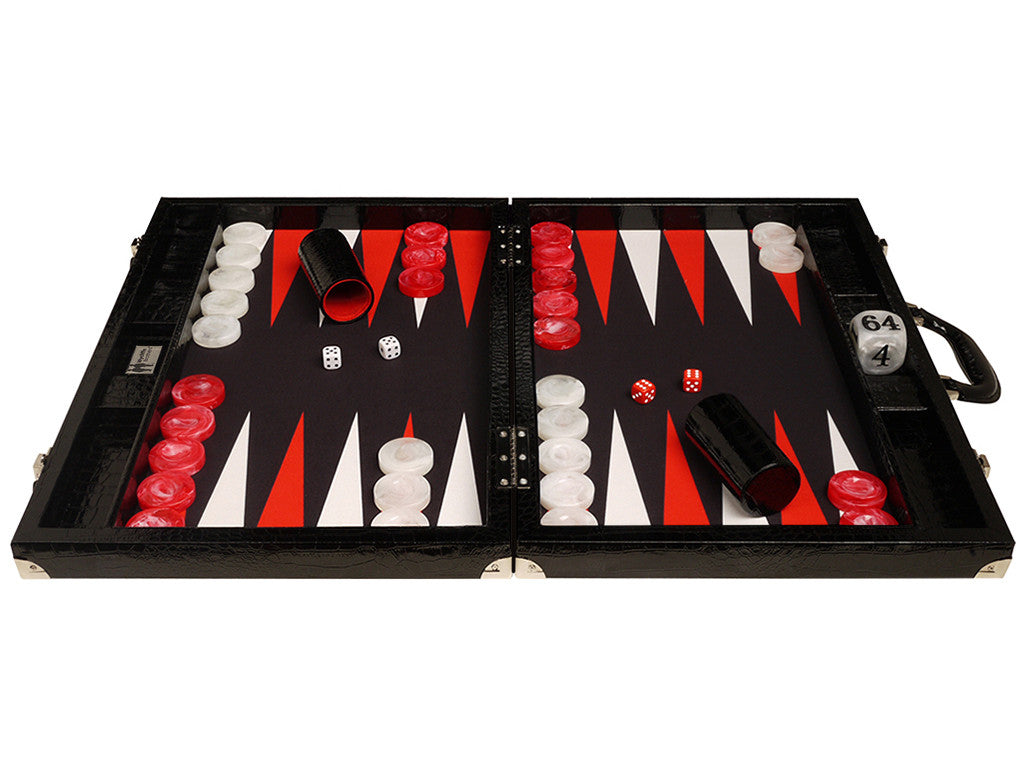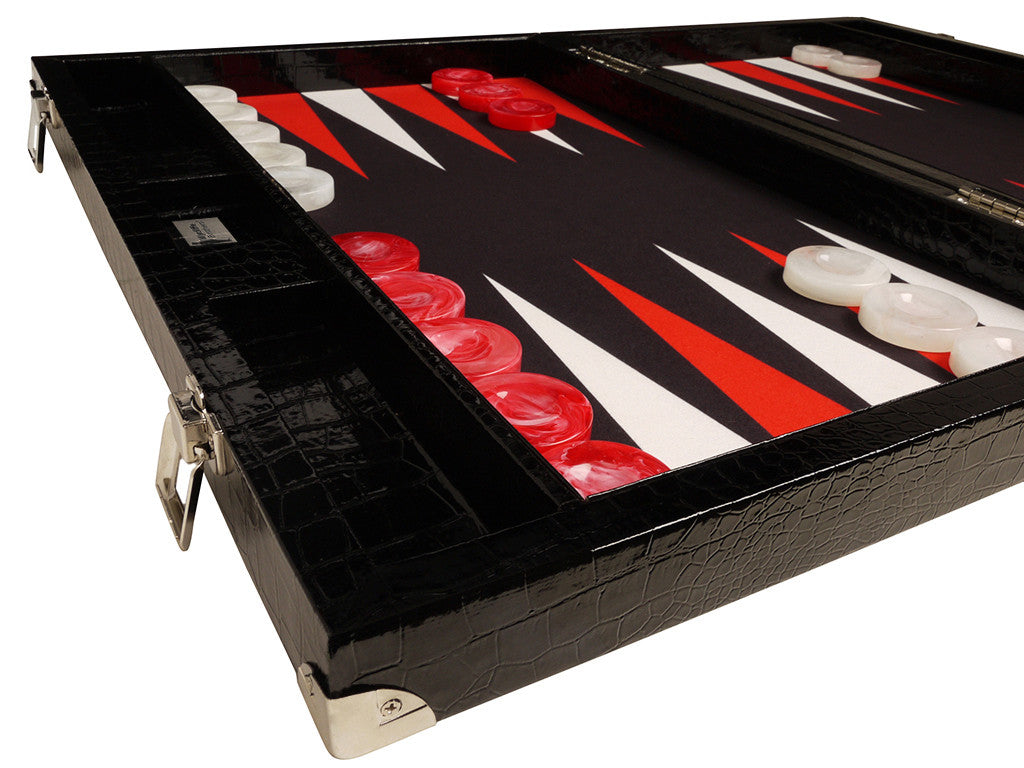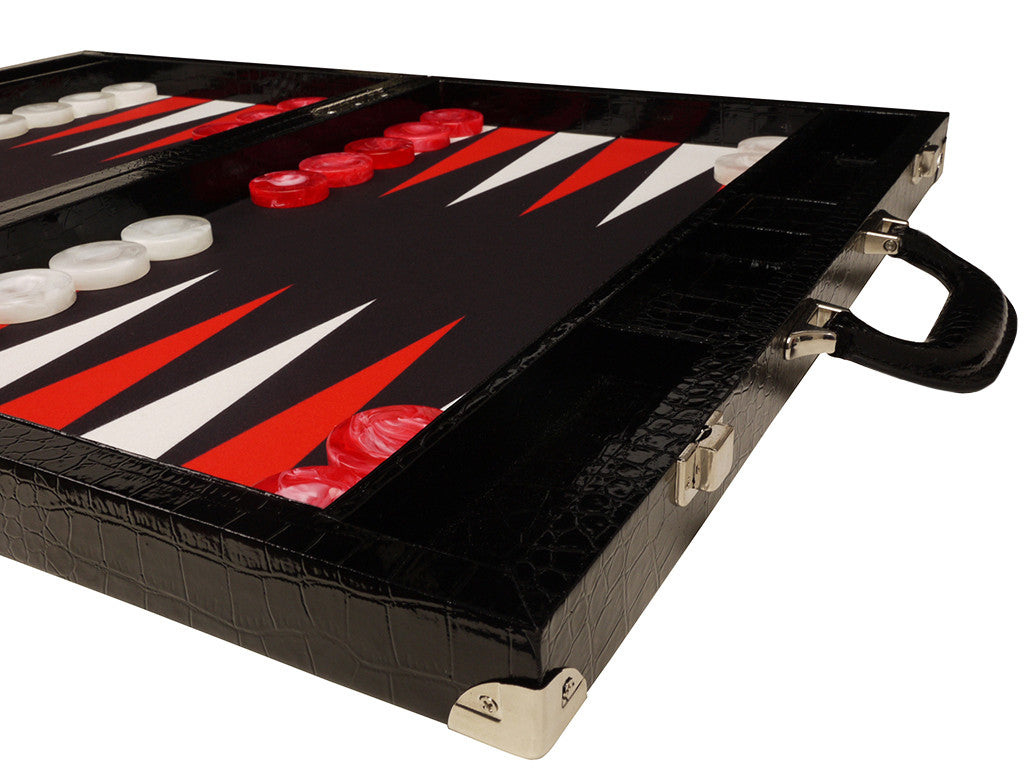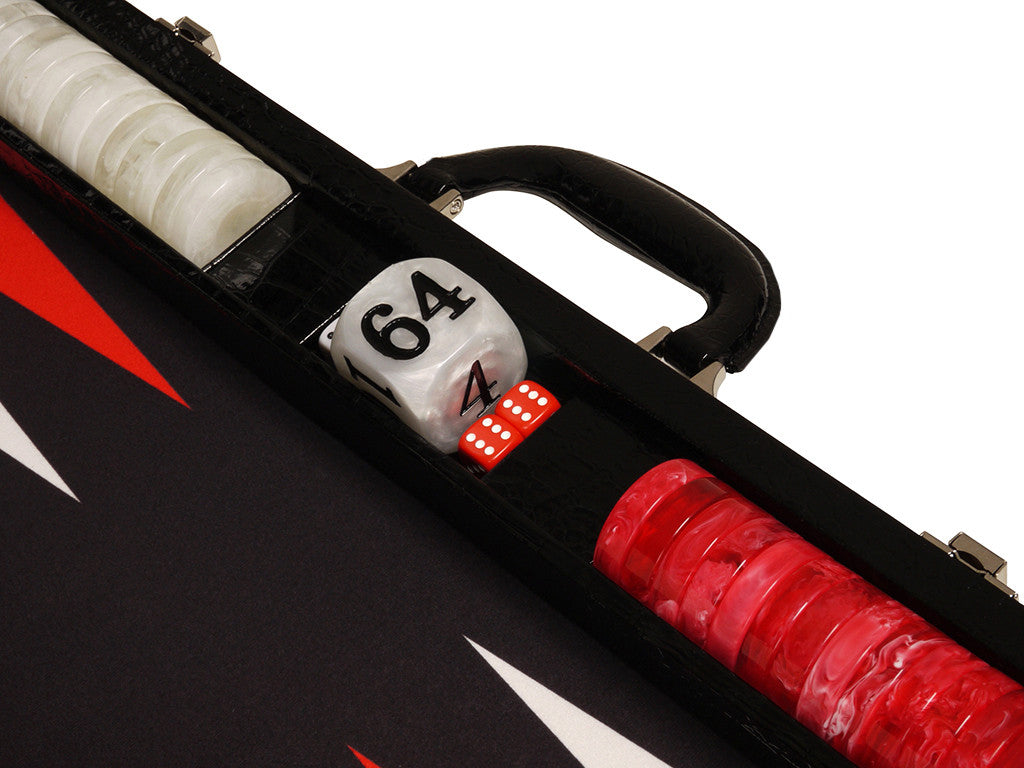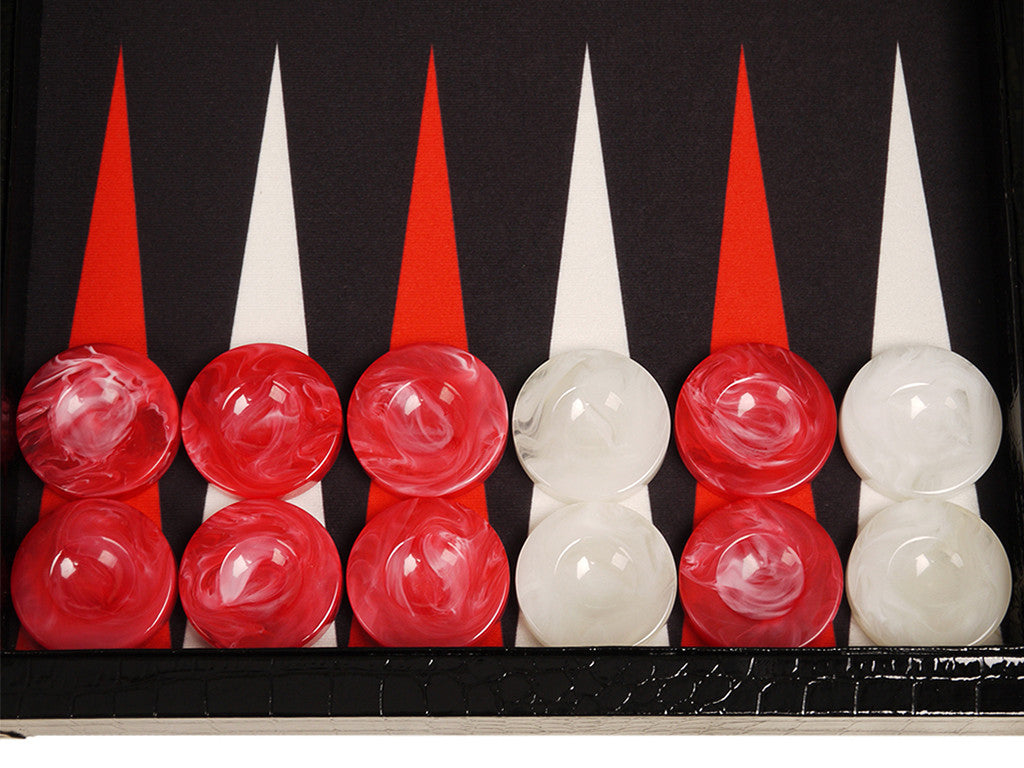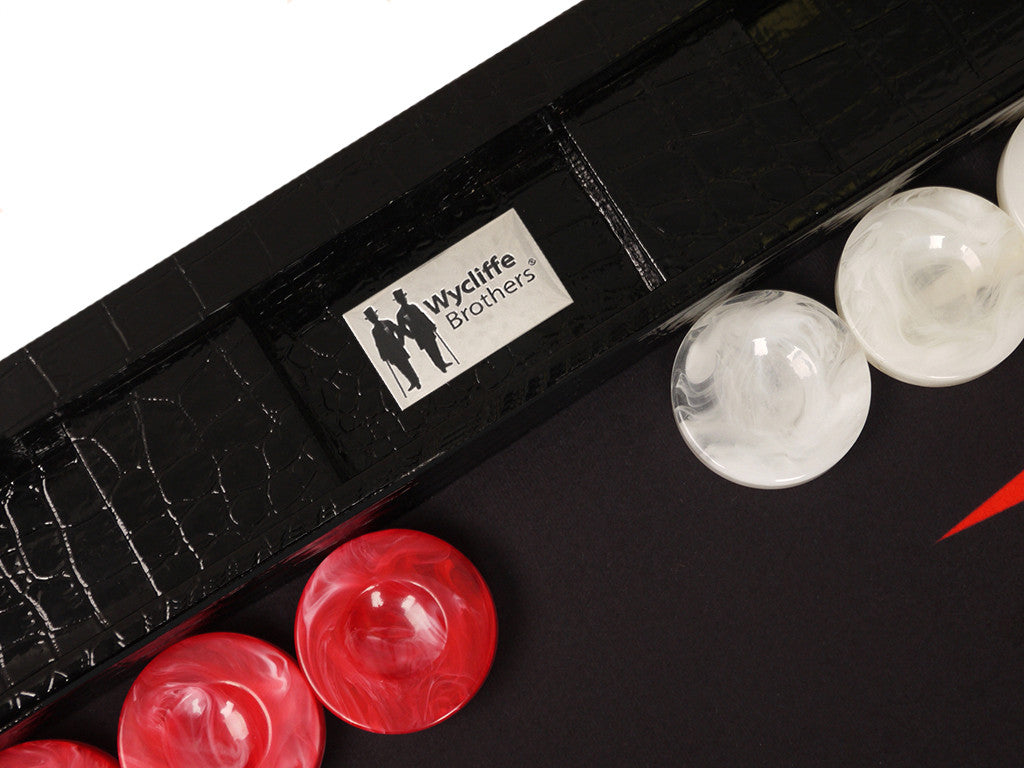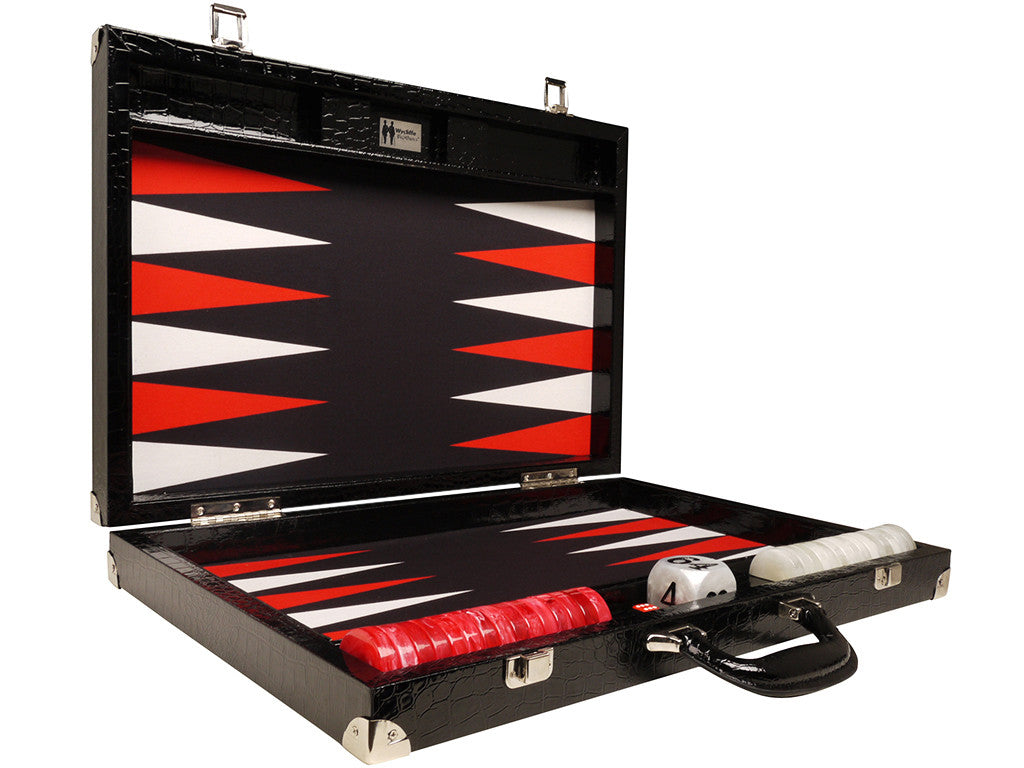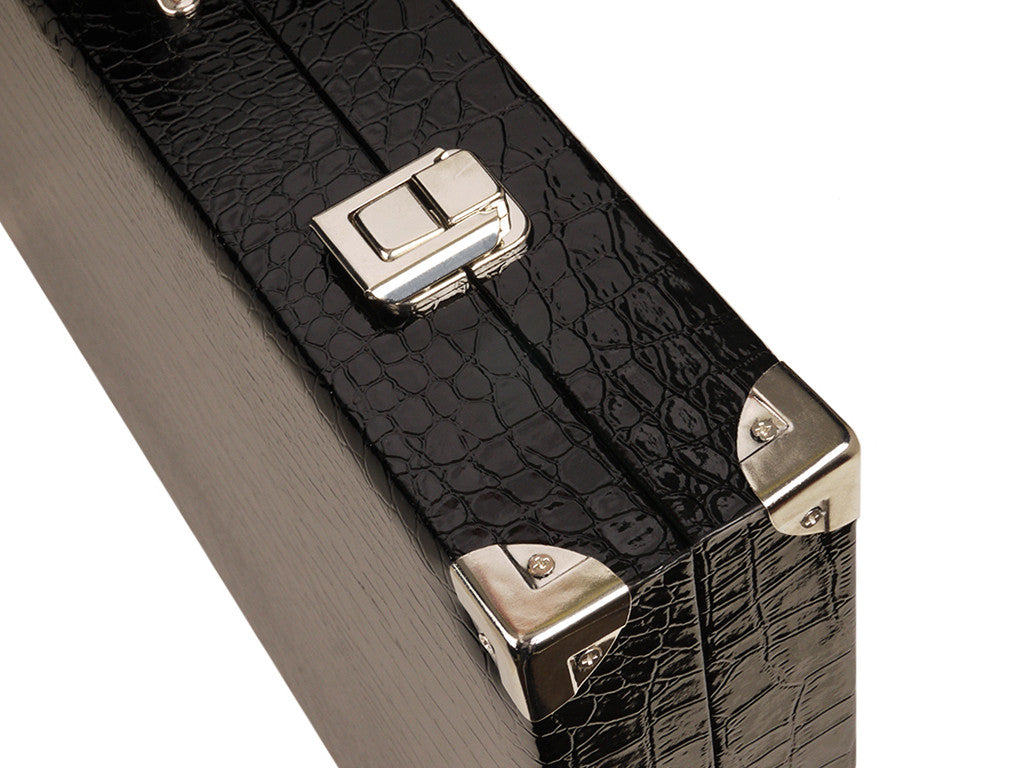 En oferta
Tablero de Backgammon para torneos Wycliffe Brothers Diseño de cocodrilo en negro con campo negro - Gen III
Nos complace anunciar la muy anticipada llegada de la serie de tableros de backgammon Generation III de Wycliffe Brothers. Al igual que sus predecesores, estos asombrosos tableros de backgammon cuentan con todas las características que se ven en los modelos profesionales de alta gama pero a un precio asequible.
La base de este tablero de backgammon de tamaño grande es una superficie de juego ultralisa elaborada con el material V-Fiber™. Esta superficie es parecida en textura al fieltro o a la microfibra, y es un material patentado desarrollado en exclusiva por la empresa Wycliffe Brothers, que satisface así a los dos criterios más importantes que debe cumplir la superficie de juego de backgammon: 1) que las fichas se deslicen fácilmente en un campo perfectamente liso y exclusivo y 2) que la superficie de juego ofrezca el nivel óptimo de fricción que garantice que las fichas se quedan en su lugar en caso de que se mueva el tablero.
Como novedad de la serie Generation III, se incluyen las fenomenales fichas de color mármol veteado, que están tan pulidas que quedará cautivado por su belleza. Con un grosor de poco menos de 11 mm, estas fichas de gran tamaño reducen significativamente las probabilidades de que las superficies del dado no queden planas sobre el tablero, de forma que pueda dedicar más tiempo al juego y menos tiempo en volver a lanzar los dados. Si estaba buscando fichas pesadas, las ha encontrado. Con un peso de unos 20 gramos cada una, ya es oficial que se trata de las nuevas reinas de las fichas de backgammon.
Estos tableros de backgammon están equipados con barriletes profesionales para dados diseñados de manera ergonómica para adaptarse a la mano a la perfección y están forrados con el mismo material V-Fiber™ para reducir al mínimo el ruido al agitar los dados.
Cantidades limitadas. ¡Haga su pedido ahora!
Conjunto de Backgammon Dimensiones:

Largo cerrado:21" ; Anchura: 14 1/2" ; Altura: 3"
Longitud abierta: 21" Anchura: 28 3/4" Altura: 1 1/2"
Materiales del juego del chaquete:
Material de la Caja: Cuero artificial
Color del caso: Negro
Material de Campo: V-Fiber™
Color del campo: Negro
Puntos 1 Color: Blanco
Puntos 2 Color: Rojo
Estilo de cierre: Pestillo Niquelado
Dimensiones de la piedra del chaquete:
Diámetro: 1 3/4" (44.5 mm)
Grueso: 7/16" (11 mm)
Peso: 20 gramos
Material: Mármol de alto brillo - Plato de dedo
Piedras 1 Color: Rojo
Piedras 2 Color: Blanco
Dimensiones de dados / cubo de backgammon:
Tamaño de dados: 9/16"
Cubo: 1 3/4"
Conjunto de dados 1 color: Rojo
Conjunto de dados 2 color: Blanco
Color del cubo: Blanco Perlado
Dimensiones de la chaqueta del chaquete:
Altura de la copa: 4" Anchura: 2"
Exterior de la Copa: Cuero artificial
Interior de la copa: V-Fiber™ con labio de viaje
Copa 1 Exterior: Negro
Copa 1 Interior: Rojo
Copa 2 Exterior: Negro
Copa 2 Interior: Rojo
About Wycliffe Brothers

Professional Backgammon Sets at American-Wholesaler
Explore the top level of professional backgammon with the Wycliffe Brothers collection at American-Wholesaler. As a brand that specializes in crafting exquisite backgammon sets designed for tournament and professional play, The Wycliffe Brothers offer a collection that redefines the boundaries of elegance and functionality.
In this collection, discover a variety of large 21-inch backgammon sets designed for dedicated players. These sets are carefully made from faux-leather or leatherette, blending luxury and durability. The standout feature is the unique V-Fiber playing surface, an extraordinary innovation by The Wycliffe Brothers, offering a remarkably smooth texture similar to felt. This innovation sets these sets apart, creating a distinctive gaming experience where checkers glide smoothly and dice rolls provide a satisfying cushioned feel.
The collection offers two exceptional series: the Croco and Masters Edition. The Croco series stands as a testament to refined design and sophisticated gaming. The faux-leather exterior boasts a tasteful crocodile pattern, elevating the aesthetic of the set to new heights. Its meticulous craftsmanship extends to the V-Fiber playing surface, ensuring every match is a symphony of smooth moves and precise rolls. The larger 1-3/4" (42mm) doubling cube in this series adds strategic depth, enhancing the gameplay experience.
In the Croco series, the checkers themselves are marvels of design, measuring 1 3/4" (44.5mm) in diameter and 7/16" (11 mm) in thickness. Their marbleized appearance lends an air of elegance, while the finger dishes make handling them a breeze. The professional dice cups, featuring trip lips and V-Fiber lining, minimize dice noise, immersing you fully in the game. The Croco series is more than just a backgammon set; it's a statement of sophistication and precision.
Introducing the Masters Edition series, a fresh peak in backgammon design innovation. Building on the legacy of the Croco series, the Masters Edition is a tribute to excellence accessible to all. Encased in black leatherette cases, these sets feature vibrant V-Fiber playing surfaces in an array of colors, from regal purple to striking red, blue, and yellow. The marbleized checkers in this series are masterpieces themselves, boasting an oversized 1 3/4" (45 mm) diameter and a thickness of 7/16" (10 mm). Their substantial weight of 20 grams each enhances gameplay stability, while the finger dishes imbue them with practical elegance.
The endorsement of Chiva Tafazzoli, President of the World Backgammon Association, resounds throughout the backgammon community: "I highly recommend the Wycliffe Brothers® Tournament backgammon sets. There are so many things to love about these boards: incredibly smooth playing surface, enormous checkers, professional-grade cups, cube, and dice...not to mention the unbelievable price! Dollar for dollar, these are the best backgammon sets in the world."
Incorporating quality, innovation, and affordability, the Wycliffe Brothers category at American-Wholesaler stands as the definitive choice for professional backgammon enthusiasts worldwide. Experience the essence of tournament play and elevate your gaming with these exceptional sets from a brand that truly understands the art of the game.